like father, like son: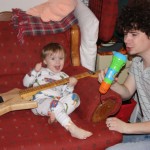 total rock stars (especially davey in those super hero jammies!).
davey really got into it. daddy plugged his iPhone into the upstairs radio and turned the music up… he pulled out his old guitar (electric? bass? i don't know the difference!) and let davey go to town. and he didn't need much encouraging to really get going!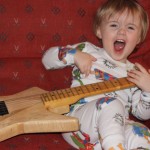 and i start to think about how quickly he's growing up. he told me yesterday "i a boy. i not a baby. i a boy." he's been saying he's a boy for a month or two now. but yesterday was the first day he whipped out that full discussion about being a baby vs being a boy.
so this photo makes me happy. because even though he's growing up so quickly, he's still kinda little since this guitar is taller than he!