HAPPY BIRTHDAY to me today! While Dave has to be at work today, at least I can enjoy my day with these two kiddos: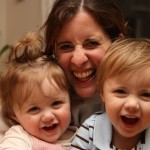 Davey is feeling much better (head cold) but Samantha has contracted a nasty case of serious diarrhea. We're talking GROSS. Plus her vomiting experience on Sunday (see my facebook statuses for that story). I hope it's related to teething and nothing more serious.
We (the kids and I) were supposed to go to the Burlington Children's Museum today with my friend, Sue and her son, Jake (aka: Snoop), but with Davey's head cold and Samantha's diarrhea, we had to postpone our shared adventure (though Sue's still going – let me know how much Jake loved it, Sue!). Instead, we'll spend the day at home. Perhaps I'll continue to clean my mini blinds (I have a new secret cleaning technique that involves ZERO scrubbing AND it works!). Or perhaps I'll (we'll) goof off all day. I'd love to go shopping. ALONE. For some new maternity pants. But that's not really an option since I can't leave the kids at home alone. But that's okay. I'm a mama first these days. And while I get frustrated at times, I LOVE my children.
My birthday gift from Dave is a trip to San Jose, California in March. He has to go there for business and I'm going to tag along (with a few other wives) for pleasure. Nana plans to fly out here to watch the kiddos. By herself. For 4 nights (I'm hoping Dave's parents will be able to help out some?)!
My family birthday dinner celebration will be this Friday night. My request this year: PIZZA HUT. I've just been craving their pizza for ages (note: we don't have Papa Johns out here or I'd be craving that instead)… so the craving shall be fulfilled. And I will NOT feel guilty for wanting a simple, deep dish, pepperoni pizza. So plain. So boring. But, OH-SO-TASTY!!