some of you will totally skip over this post b/c it's all about scrapbooking. and that's okay. i know you love me (or my kids) anyway. but i know that i have SOME friends out there who would like to see photos (no matter how bad) of things i've been doing lately.
when the kids are playing upstairs in the bonus room, they often don't want additional "interaction" from mama (or daddy) so i can lock myself into my scrap area and still watch over them. for the past two years, i've been able to "crank out" the layouts based on my latest "process" which involves pre-matching photos to paper. from there, i simply pull out a stack of paper & photos from a box and start pulling other things to go with it. i've let go of my "perfectionist" tendencies. i no longer need to have that PERFECT piece of paper or button or embellishment or font to go with a set of photos. i'd rather have my pictures in albums with memories recorded than sitting unloved and un-viewed in a box!
so for those of you who care, here are some (poor) photos of some layouts i've created over the past few weeks. i found it interesting that i actually created THREE double-page layouts (98% of my layouts in the last 4 or 5 years have been 1-page). if i think there are interesting "areas" on a layout, i tried to give you a close up so you can see the layers or embellishments or whatever i used/did. but feel free to ask for more details!
i tried inking that "female" chipboard piece in the last photo. it was the same green color as the heart. but it looked awful. so i used my finger and painted over it in white. but i didn't want it to be a "solid" white, so i like the green ink showing through a bit… never a mistake… just opportunities for embellishment and creativity!
the wire heart in that last photo was handmade by my friend Elizabeth Wickland. It was on our wedding card. it fell off the card within the first year and i've saved it all this time to use as an accent on a page… it just worked here! i think you can also see that the "M" in "months" is torn. oops! i think that happened when i was taking it off the backing sheet. still usable, though!
i saved a bunch of "ephemera" for this page and ended up not using any of it. sometimes that happens. i love the random little collage of vintage buttons and that green "washington state sales tax" token. it came in the same jar with those other buttons, purchased at an antique store last year with cousin Tracy Getchell. and i love those October Afternoon letters (red)…. a little bigger than the making memories ones!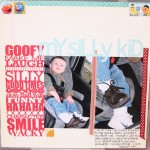 these photos were from that same trip to sonic (seen above) but deserved their own page. and i had already cut that "goofy…" red phrase with my silhouette and needed to use it. these photos were a good match! i love that davey has on two DIFFERENT shoes and i didn't care (but dave and my mom did)!!!
sorry for the graphic photo of my face post-surgery last year. since this is the same surgeon who did my OTHER eye surgery 4 years earlier, i thought it appropriate to get my photo taken with him (pre-op). see that round thing with the metal in the center in the bottom right? yeah. that was still on my chest when i got home. OOPS – guess they missed one! and the center photos shows how i layered some stickers for post-op meds.
i LOVE these photos. i LOVE that little dress. i used my FAVORITE stamps for the title. and i've had that flower brad for a LONG time. glad to finally use it! and i love the little "collage" of embellishments in the last photo – the metal "7," the heart and epoxy sticker and the owl… plus the punched scalloped circle and the "s" sticker (for "samantha" and "seven" months).
tired of looking at layouts yet? no? really? okay… here are some more!
my heart would melt anytime i'd see davey's feet sticking through the crib slats. it does the same thing when i see samantha's feet like that. so cute! i love the large title letters and the glittery heart over the sticker.
the colors are washed out in the first photo, but i gave up trying to fix it. you get the idea. i like that the title here is layered on some notebook patterned paper. and i wanted to show you that i do make "oopses" from time to time. on the date sticker, i accidentally had the wrong date in the center, so i covered it with a year sticker – which, FORTUNATELY, i realized was the WRONG YEAR and i was able to replace it before making an EVEN BIGGER mess! :)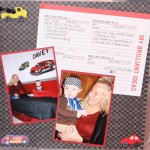 just a simple page. nothing really to note other than the "my brilliant ideas" sheet came from Elizabeth Wickland in a care package… i think she found it at the dollar spot at Michaels?!
i have more pages to show you, but i'm tired of uploading them right now. we'll save them for another post. besides, i need to go get ready to take the kids out and run some errands and then off to my birthday dinner/party at Pizza Hut with some extended family!