just a reminder for those of you who don't live near here… these are some of my friends: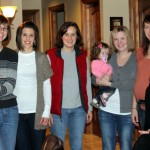 (left to right: Carrilee with Jorja, Taya, Shelly, Karla with Alyssa, Jessica and me)
These are some of the moms in my playgroup. These women have pulled me through so many ups and downs over the last 3 years. They all have a very, VERY special place in my heart. So if any of you women (pictured or not) are reading this, please know that i love you all very much. and i think the world of you. you each bring something unique to our group. you each mean something special to me. you have each touched me and improved my life in so many ways. and i just wanted to tell everyone!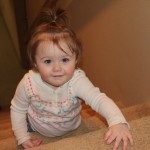 Taya captured this photo of Sam at the same playgroup (a few weeks ago). I love it b/c I think it FULLY shows her personality. And those two other sweet girls in the photo above? yeah. Jorja is 3 months older than Samantha and Alyssa is 5 months younger than Samantha. And Samantha TOWERS over both of them! (have i told you that she's currently wearing shirts and pants size 24 months and 2T? and that she's ONLY 15 months old?!) but the really fun part: these three girls could all be in the same grade in school. i LOVE that! my "longest" friend dates back to 4th grade (that's you, Jenn!) and we went for a number of years without really communicating much (if at all)… can you IMAGINE if Samantha's life-long friend(s) date back to BIRTH?! CUH-RAZY! that's something i can't hardly fathom!
can i tell you something else cool? my friend Karla, who had TWINS (Alyssa, pictured above and Luke, not pictured) just 10 months ago, IS PREGNANT WITH ME! yep. we're due just ONE DAY APART. and i'm so thankful that we can be part of the "older moms club" together! and i'm thankful that she lives a few blocks down the street. and i'm thankful that she's logical and level-headed. 'cuz there are going to be days (and likely, lots of them) when i'll need her sanity to keep me going! and hopefully, i'll be able to bring some sanity to her, as well ('cuz she'll have a 4-year old, two 16-month old kids and a newborn)!