so my 48-hour bug post was wrong. i'm still sick. quite sick. and quite tired. but at least i can function. and from time to time, i have a spurt of energy, which i use to do laundry or clean a bathroom or make some food. samantha and i are now taking eye drops for pink eye. and davey is still on his anti-biotics for the ear infection/pink eye (his pink eye never fully materialized). dave now has the very sore throat and the stuffy sinuses. we are a pretty darn sick household. but i'm trying to wash things – blankets, sheets, door knobs, light switches, etc. to prevent it from spreading further. and i still have to start the toy cleaning process. i'm not looking forward to that one. but i know it'll be worth it. i just want this creepy crud out of this house! out of our bodies! and back to our routine. this week we missed work, Bible study, shopping with auntie taryn, an appointment, and tomorrow we'll miss church. we'll skip play group on monday and hopefully we can return to our "normally scheduled activities" on tuesday!
i am VERY THANKFUL for so many amazing friends who have been so kind and generous. i know a lot of people are praying for us. and my friend suzanne brought by some homemade chicken noodle soup & homemade bread (and they were still warm!). shelly delivered some monster cookies (mmmmmmm!)! mary jo is bringing dinner and some extra disinfectant wipes (for above mentioned toy-cleaning). several people offered to do my laundry. all of it. becky "listened" (via e-mail) to me whine and complain about this stupid cold that has knocked me on my behind for over 4 days now. to all of you, THANK YOU! you have encouraged me and comforted me more than you likely realize.
and please keep praying for us. and for my mother-in-law. bless her heart, she has it, too.
but since we need some fun and pretty things to read and see right now, in case you didn't get enough last week….. here are some more of my recent layouts (for those of you who enjoy seeing this kind of stuff) – and mom, i'd encourage you to look through them… you're in some with your sweet grandkids!
my mom HATES to have her photo taken. she's a willing participant, but she won't sit still, she won't continue to look at the camera for more than 1 second and she won't smile. but all that aside, she needs to be in photos. especially with her grandkids. 'cuz she LOVES them. and they ADORE her. as for the page itself, before Treasury closed, i did a LOT of die cutting. and i die cut MOST of my smaller scraps into hundreds and hundreds and hundreds of hearts. glittered, acetate, foam, felt, cardstock, patterned paper, you name it… i've got it. and i LOVE to add them on lots and LOTS of pages!
what's not to love about die cut edged paper… fuzzy-felty letter stickers… mini letter stickers (to finish the title)… journaling spots… button groupings… my sweet little boy exploring the grass and magnolia tree flowers in the sunshine with his daddy?
here's a layout where i struggled quite a bit in the "creating" process. most of the photos are really dark, so i knew i wanted to use the orange paper to brighten it up a bit. but i wanted the orange ON something. too much orange is not a good thing! :) but white cardstock wasn't working. neither was my standard go-to: lined journaling paper (like notebook paper). i have a package of kraft and liked it, but thought it was a bit dark. i eventually made it work by adding white letters, a glittery (and bright lime green) heart and the journaling card with mostly white and some orange. i also felt that ribbon on the left edge pulled it together. and i knew i didn't want it to run all the way up the page, so i ended it early, cut at an angle. this is one of those simple pages that actually took a lot of time and thought and energy. but i got there. i like the results.
ahhh, sweet, little samantha wearing her "black dress" onesie from auntie carrilee! this page came together pretty easily, which surprised me. i used my exacto knife to cut around some of the elements/designs on the patterned paper and then i slipped the photo (and journaling) behind those cuts. dave put those letters that i used in the title in my stocking this Christmas – good choice, honey. i LOVED being able to use that vintage butterfly (it was a ribbon slide – but i cut off the extra metal pieces) on this layout – it was the perfect touch! and, of course, the polka-dot heart from one of my marathon die cutting sessions!
here's a two-pager with interactive elements:
the photo on the bottom right of the left hand page lifts up to reveal journaling and another photo: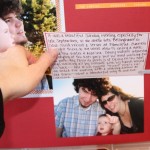 and the photo on the top right of the right-hand page is a little booklet with 4 additional photos: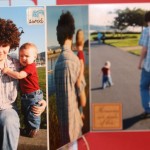 there are two photos on the "other" side of the booklet, which is attached to the page. i used to do a lot of interactive elements like this on my scrapbook pages. i think i stopped doing it b/c i would make a mini book, instead, if i had a lot of photos, but i'm back on a layout kick these days. this layout is really simple and basic with mostly cardstock, but i like it. it does what it's supposed to do: tell the story of our sunday afternoon at zuanich point park. (side note: this trip/these photos were taken less than a month before samantha was born)!
another two-pager:
this is another layout where i struggled. for quite some time but in the end, i like what i have. i had a lot more photos that i opted to "edit out" of the layout, so that helped. i really wanted to use that patterned paper and i was really struggling. i'm not convinced i made the best use of it, but, as i said, i'm content with my final result. i did use my finger to dry brush some paint around the edges of each page – i think it added that "little something extra" it needed to appear finished.
and, yet another, two-pager:
now this layout… this one i really like. i like the white, green & pink color combo (to play off samantha's polka dot outfit). i love the big letter stickers. i like that i finished (or started) the title with stamping (even though i obviously needed to clean that "d" stamp better!). i like the journaling paper, the pink felt owl, the flowers and the bling… the ribbon and stickers under the photos… it all just "worked" for me.
okay… just a few more, i promise!
another die-cut edge paper… but i mounted it on a full sheet of cardstock for a slightly different look. this one was pretty simple, so to "perk it up" a bit, i added bling on the flowers and some glitter on the stamped "s" and the stamped birds (lower left and right corners). i also liked adding that carter's kids clothing tag… i have a BUNCH of those things saved and every once in awhile, they work really well on a layout.
this one was a lot of fun and i'm not sure why. i started with the photos and then pulled this paper. for some odd (and unknown) reason, my brain kept telling me "use this one." so i dug through my scraps to see what i could use to brighten it up…. some yellow striped paper, some turquoise flocked paper and some orange ribbon… perfect! i added the orange letters, some journaling and a few stickers and there it was! but something was missing. so i dug through my scraps a little more and found the paper with the MOD circles in orange and blue. and i cut it into a circle and slipped it behind the photos – MUCH better! i added the orange giraffe simply because he was orange and the ribbon tab in the upper left corner and felt that the page was pretty well balanced. but the more i looked at the layout, the more i couldn't tell which kid was which… hence the "initial" letters (d for davey and s for samantha)!
and finally, one of my recent FAVORITES:
i LOVE these photos of davey… full of energy, life, joy, silliness… so him. and when i pulled out the photos and paper i had chosen to use, all i had were the three photos and that one sheet of paper that's mostly covered up (blue with a little bit of red, white and light blue on it). i grabbed a sheet of red cardstock from my stash and then dug into my scraps for more red & blue paper from the same line (it's one of my all-time favorite lines from one of my all-time favorite, and now defunct, companies!). i randomly added bits of red and striped paper here and there. i tore some edges. then i pulled out a denim heart (yep, from that die cutting session!) and started pulling out random embellishments (metals, stickers, etc) and started adding things to the layout. i had a lot more to add, but i didn't want to go overboard, so i called it "enough!" and there you have it. randomness that has become a favorite! oh – and my journaling is right on the dead space of that bottom photo – i used an american crafts slick writer pen so the ink wouldn't smear!
thanks for bearing with me through yet another scrapbook page tutorial post. i hope some of you enjoyed the info. and i hope most of you enjoyed the layouts. let me know if we should do this again next month!