because i know it's all about the kids… and seeing photos of the kids…
davey with grandpa – one of his all-time, hands down, most FAVORITE people in the world:
i think grandpa's pretty smitten, too!
samantha, playing with her Christmas girlie-girl purse from auntie rachel & uncle sterling: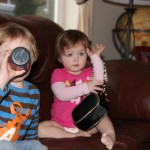 it's from Nordstrom. yes. it is. and she loves it! i love that she's wearing a long-sleeve t-shirt, a diaper, no bottoms and is STILL trying to put this thing onto her shoulder. she's all about style!
but it can't always be JUST about the kids. how about these people?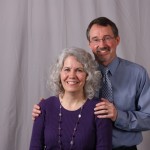 pretty good photo of dave's parents.
or how about this?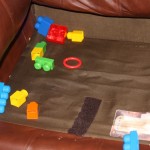 that's what i found in the couch when i was vacuuming (including under the couch cushions) last week! and that's MY side of the couch… who know HOW LONG those mega blocks have been there… and i had NO CLUE!
**Random, Fun News: I have designed a NEW BLOG LOOK!!! finally! after all these years! so later this week i'll be scanning the pages and, hopefully over the weekend, dave will have the opportunity to update this look. so enjoy one final week of crazy color and pattern!