thank you for all the birthday wishes yesterday (here and on facebook and my voicemail…). the day didn't start out great (is it even possible when you have sick kids?) but it ended with me in much better spirits.
i received a beautiful delivery while i was at the grocery store with the kids (trying to find bland foods that samantha will eat since she's not partial to at least 3 of the 4 main ingredients of the "BRAT" diet). here's what was waiting outside my front door: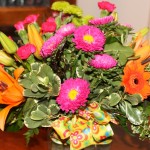 many thanks to my brother, sister-in-law and nieces who had these sent to my home!
despite having a slightly "more challenging" day, the kids and i did have some laughs. including samantha when davey discovered our 3D glasses in their toys box: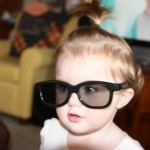 i think she makes those glasses look good!
since today is wednesday, that means i get three GLORIOUS hours in my home, alone, without the kids. my mother-in-law is graciously watching my kids so i can get some work done for strategic. so i guess i should go make good use of my time!