forgive me, please, if i've already shared any of these photos of my son. who is growing up quickly. many times, far too quickly.
the sheer joy of DONUT FACE!!!!

(he had just enjoyed some powdered sugar covered mini donuts – one of this mama's FAVORITE treats)!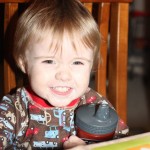 jumping…. landing…. davey saying "i jumped"
after enjoying some yummy chocolate cake: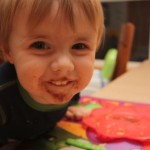 enjoying his Christmas trains:
(and no, nana, we have NOT replaced elmo's batteries yet… and NO, we do not intend to do so!)
totally unrelated, i LOVE lists. things to do. things to buy. things to make. things to clean. things to pack. i'm a list girl. i love 'em. can't get enough of 'em. so i have a list of things "to do" this week. one of those items is "MAKE MONSTER COOKIES." it's a huge undertaking b/c my recipe makes a BIG batch. but they freeze well. i need to go buy some M&Ms so i can make the cookies. i have a few Christmas M&Ms left, but i didn't want my cookies to look like left overs. AND THEN IT HIT ME. A PRETTY DARN GOOD IDEA.
i got out two small containers. i put the greens in one container. and the red M&Ms in the other. and i still need to buy a bag of M&Ms to make my batch of cookies, but now, i can ALSO make some monster cookies JUST for valentine's day (with the red M&Ms) and some monster cookies JUST for st. patrick's day (with the green M&Ms)… and they'll just go in the freezer until the correct holiday and then everyone will think i'm amazing for picking out red M&Ms for one holiday and green for another when i was simply using up my Christmas candy! should i tell you now, or later, that we still have lots and lots of left over halloween candy in this house?!

also, my new Bible study at church starts this week. Thursday mornings. we're doing a Donna Partow study on 2 Corinthians. I've never heard of her before. I started working on the first lesson. will let you know what i think after a few weeks. i really miss doing Precepts. we still have a class, but i just can't commit to the time required for it. i keep reminding myself that "this is a season" and one day, before i know it, i will be able to commit to the time required for that study series. but for now, i shall simply pine for it!

are you getting excited for the big reveal? my new website pages? the blog screen with BIGGER text area…. meaning LESS scrolling for you to read a few simple sentences? yea. i thought so. just a little bit longer….
until then, happy tuesday. today is the only day with nothing on our calendar. a trip to the grocery store and rite aid (gotta get those M&Ms) is likely. but nothing planned. ahhhh…. how nice!