happy first day of december!
what did you do today? i mentally prepared myself. then i loaded the kids into the car and headed out. only to turn right back around (when i was a mile and a half down the street) to return home to get the stroller. sheesh!
back out we went. to walmart. and then to the mall. i purchased ALL of the stocking stuffers i need for davey, samantha and dave. whew! i HATE getting stocking stuffers. so i'm glad that's finished. i also purchased one Christmas present today. and i used my Kohl's bucks on something for me (a new purse).
i saw on Elizabeth's blog that she and Ellie assembled and decorated a gingerbread house the other day. i fell in love with the idea and found a $10 kit at Target (hers was a $10 kit from Costco) and tonight Dave, Davey and I decorated the house!
samantha did not appear to be pleased with her role of on-looker and gum drop taste-tester… though you couldn't tell that from this photo: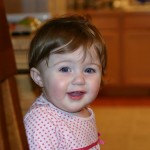 the finished product:
here's the side that davey decorated (aside from icing application, that is):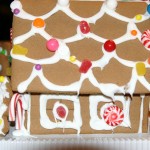 it was a fun evening and i'm thankful to Elizabeth for sharing her story on her blog…. so i would be motivated to try it. for dave and i, we're pretty sure this is the first time we've EVER decorated a gingerbread house. so fun to share the experience with our davey!!