i apologize for my absence of late. with all the nausea, i spend a lot of time lying down on the couch… and not a lot of time taking photos of my kids or anything else. i did, however, snap a few photos on Sunday morning as we were waiting to leave for church…. here's one of my favorites: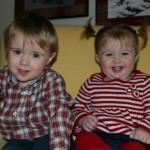 but i'm pleased to say that despite feeling crummy 75% of the time, i am almost ready for Christmas. i purchased my last present(s) on friday. my gifts are all wrapped. and our tree is up (and already dying – i haven't had to add water to it for a week 'cuz the sap/pitch hardened on the bottom of the stump) and our house is decorated. i mailed all my outgoing packages (last friday) and even heard that one arrived (in NYC) yesterday. so now i can sit back, relax, and enjoy the ride. sorta. well, not quite.
i have to clean (at least the downstairs) this week 'cuz we're hosting Christmas Eve. but it's low key. dave will make chili. i'll heat up some yummy loaded cheesy potato soup we have on hand and there you have it. yumminess and family togetherness. i'm excited about the kids' presents. and about dave's gifts. but i can't tell you about them…. not yet, at least.
auntie taryn is coming over to watch the kiddos for a few hours so i can get some stuff done (work for Strategic – i PROMISE, Kristi!) and still be able to enjoy a nap when the kids are napping. auntie taryn ROCKS!