don't you hate it when you spend HOURS doing something – only to discover that no one (yourself included) really noticed what you did? yeah. that happened to me this week. on monday i spent 4 hours cleaning the upstairs. the bulk of that time was spent in our bedroom. i dusted EVERYTHING (except for the mini blinds… ugh!). i moved furniture. i vacuumed. i de-cluttered. our room tends to become the "catch all" for things that have no other home. or for things we don't want the kids to have (yet). it was pretty much a mess in there. i did also dust and vacuum the hallway, the bonus room and the kids' rooms. and when dave got home from work, all he noticed was that i moved a chair from our room into davey's: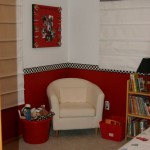 i hope that this guy: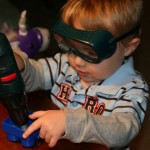 is always appreciated for the hard work he does!