so on wednesday, as usual, we headed over to the Second Chance thrift store here in town. i knew we needed a distraction since nana had begun her trip home that morning. we met up with mrs. julie (as davey calls her) inside the store. and we were quite disappointed at the LACK of good stuff this week. julie actually left EMPTY HANDED. not sure that's ever happened. i came close, but then i wound up spending $3.79. wanna see what i got? (as if you have a choice!)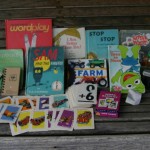 a bunch of books for the kids (25 and 50 cents each – i'm a sucker for their book section!). i'm wild about that dr. suess book with the owl on it (i read it today while the kids napped)! i scored that camera (on the right) in the outside FREE boxes. we're starting an "old school" camera and video camera collection. i picked it up to let dave decide if it's worth keeping or not (for free, i can't lose, right?). and that jar behind it? i like the handle on it. it's headed to my craft space. oh! i forgot to take photos of the boards i snagged in the free spot… will have to do that soon. not sure how i'll alter and use them, but i think they have a bit of promise. perhaps as gifts with some vinyl on them…..
but back to the photo. see those flash cards? and the other cards? they were all in a bag together for 99 cents. what made me HAVE TO HAVE that bag are those go fish cards with the Little Golden Book characters on them.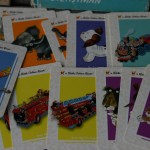 i can't believe julie let these go! i'm eager to use them in scrapbook pages… and to make a mini book out of them… or use them in a mini book…. or both.
here's hoping that next week is a better thrifting week!