so dave is taking this week off from work. the whole week. HIP HIP HOORAY! the kids LOVE having him home. so do i. yesterday i ran some much-needed errands…. CHILD-FREE! whew. it felt great.
today he's smoking a salmon for our dinner tonight. should be tasty.
what will i be doing today? well, i was planning on editing and ordering photos from august through now. and working on our Christmas cards (finally designed 'em yesterday!). and to do lots and lots of laundry (mostly for the kidlets). but because of a mishap in the kitchen this morning: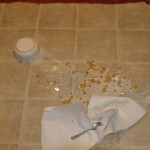 i will be cleaning the kitchen floor. ugh. i HATE cleaning the kitchen floor. i have yet to discover a better method of actually getting the floor clean than to get down on my hands and knees with a bucket of hot soapy water and a rag. sigh. [julie, just for you, this morning, i learned that i should not carry my laptop AND a mostly full bowl of frosted flakes into the kitchen at the same time. at least i dropped the bowl and not the laptop. and the bowl didn't break. so those are two things to be thankful for, right?]
no worries, i will also be doing the laundry. can't get out of that one. yippee! (insert sarcasm here).
on a happier note, however, we received a package yesterday. that dave found and opened this morning. it's from nana (who else?). and it's got some GOOD stuff in it.
the kids received a talking book:
it's pretty cool. it's the story of "T'was the Night Before Christmas…" and my mom reads them the whole story. each time they turn a page (whether "on time" or "too early") the story continues (so there are gaps in the story if they turn the pages "too early"). it's pretty cool. i think she found it at Hallmark. it should have a volume switch (it doesn't). [thanks for re-recording it, mom.... can't imagine what the FIRST volume was like!] we've already had to threaten to take it away from davey. he's not being quite gentle and loving with it. he gets a little excited!
samantha was in her high chair eating breakfast, so she didn't get to "play" with the book (good thing, too, 'cuz she's been eating CHUNKS out of ALL book spines lately…. SO frustrating). but she did "ham it up" a little bit for me when i turned the camera on her: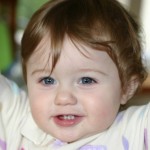 the package also contained some old school lollipops that i used to get for Christmas EVERY YEAR in my stocking. i LOVED those pops. and then…. BANG! gone. never to be seen again…. until now. we're talking a good 15 years later. so mom sent two bags. she probably sent them for the kids, but i'm putting one in my stocking and one in dave's (if they last another month)!
and finally, as a special gift for me, my mom included a BIG FAT 'OLE PACKAGE of felt: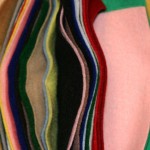 i counted 41 sheets of felt in there (one of them is double-the size, so i guess that would really make it 42 sheets!). i plan to use these goodies in mini albums. and on scrapbook pages. and if i can convince a friend of mine to let me use her die cut machine…. well, you get the idea. mmmmmmm. it was a good thing for me to wake up to this morning!