hey! today is monday! do you know what that means? it's the BIG RELEASE. yes. the BIG RELEASE. the project my husband has been working on for weeks and weeks and weeks is AVAILABLE NOW. seriously. many of you know that dave works for Logos Bible Software in downtown Bellingham. and some of you know that he's been working on an iPhone (and iTouch) app (aka: application) for a few months. but do you know what that app does?
it is SOOOOOOOO COOL! seriously. trust me on this one. if you're AT ALL interested in reading the Bible and researching the history and meaning of words (including the Hebrew & Arameic and Greek original words and definitions and meanings), then you NEED this tool. not only do you get the Bible on your iPhone or iTouch (which is handy, let me tell you!) but you also, with ONE SINGLE TOUCH to a word, you get the original word, the definition, the likely meaning in the context of the passage…. I've been WAITING for a few months for this app. Dave's had it on his phone for awhile (the "work in progress" version) and i've been DROOLING over it. did you know i was such a geek for "smart stuff?" i am. apparently 9 years of Christian school, 4 years of Christian college and 1 year of Christian graduate school plus COUNTLESS Bible studies, youth retreats and more have gotten under my skin. or in my brain. and i CRAVE that intellectual side of "what does this mean?" or "what is this really saying?" and now, with the touch of a finger, i can know. AND YOU CAN TOO.
FOR FREE. seriously. well, the app at least. i can't provide you with an iPhone. or an iTouch. but i can tell you to go to your APP STORE. type "Logos" into the search feature and go from there. this program is FREE. and COOL. and it could be yours in less than 10 minutes! (FYI – you DO need to create an account to access the word-look up tool. but that's free too. and it takes less than 1 minute if you can type fast!)
so get to it. and you, my friends, can hold in the palm of your hand, the Bible, a Bible dictionary, an entire set of Bible commentaries AND some much loved code created by my amazing husband! (and can i brag a little bit more to you? all iPhone apps have to be approved by Apple. it is very rare for any app, apparently, to be approved on the first submission. Logos' app was approved only 15 days after it was submitted. on the first try. WAY COOL!!!)
now, on to some other fun deals…..
some of you know my friend julie. she gets so excited about things (i tried to channel my "inner julie" while writing saturday's blog post…. did you notice?) and she REALLY gets excited about wednesday mornings here in lynden. because wednesday is the first day of the week that our awesome "Second Chance" thrift store is open. and now i'm excited about wednesdays, too. i LOVE to find good stuff there. i've hit some major "BONUS FINDS" lately. LOTS of kids books. shoes. a jacket. puzzles. game pieces (for scrapbooking). but here are the ones i where i have taken photos:
that first pile of books…. FREE! yep. FREE. i scored some GREAT books 2 or 3 weeks ago. and all outside for free. so if you pull up to the store and see me outside digging in some cardboard boxes, it's 'cuz i'm trying to snag some awesome freebies! some of the books have a torn page here and there (but not missing pages). and some have some special coloring or pen marks in them. but all are readable. and yes, those are Dr. Seuss books. seriously. i actually scored even MORE free books than what you see in the photo, but i gave a bunch to my MIL to have at her house for the kids. more Dr. Seuss books. Good night Moon. yeah. crazy.
and that dinosaur book? also free. but the coolest thing about that book was i had no clue it existed until a week earlier. when my dear friend megan bought davey another one of those dinosaur books. and she told me her boys LOVED them. and that there are about 4 books in the series. and now we own two of them. and davey likes them – even better!
last week, after seeing julie's work-in-progress BLESSINGS mini album, i wanted a dictionary of my own (for different projects). so i found the last one they had: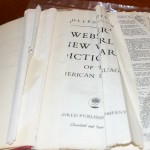 a little beat up. but only $2. i was elated. (later i found out julie's was only $1. sigh. but it's till a good deal. and i've already used a page!)
but my find of the week was this: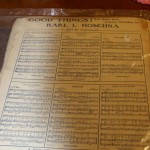 a package of "old sheet music" for $5. i cringed at the price. but i was DRAWN to this. there was something in me that fell in love with the page you see. it's the back of some sheet music. i wanted it. i REALLY wanted it. i felt i HAD. TO. HAVE. IT.
so i splurged. and when i got home, and looked through all of it, i knew it was a good decision. i can't WAIT to use those goodies in some of my scrapbook pages and mini albums! now i just have to figure out how to sneak into julie's house and scrapbook room to steal some of her map paper! :)