"thanks for the memories…." can't you hear that music/song in your head now? is it stuck? good. tee hee! i'm a meanie like that!
yesterday (saturday) was treasury's final BIG MOMENT…. we decided to GO OUT WITH A BANG and host our annual (sometimes twice yearly) garage sale…. IN. OUR. STORE. yep. never done that before. we used to host it across the parking lot at christ the king church. but since we didn't need fixtures and we had limited product, we decided to try something new and fun and have it at "our place."
i went to the store on friday to help out (again, only thanks to my dear friend carrilee, who watched my kids, once again, ALL day… and then thanks to my husband who picked up the kids so i could stay a little later and help with tables….)
so we moved ALL the product in the ENTIRE STORE to the back wall: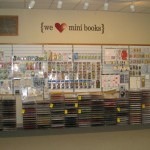 yep. i think about 98% of our product fit on that back wall. sad. so very sad. and then we got all the tables set up and saturday morning was an EARLY day for many (not quite so early for me) to help set up for the sale.
when i got to the store (around 7:45-ish), i found lots of people putting out and pricing their stuff. and lots of other people shopping. i dropped off my special treats and started shopping (my shift didn't start until 8:30). once i started working, i thought it appropriate to snap a few photos (i had my tiny camera in my apron pocket)…
it was a full house… lots and lots of tables in our space. and lots and lots of vendors. and lots and lots of workers…
(tammy t, julie, me, sara, alissa in blue and waving at the camera, and elizabeth):
i also had the privilege of working with other fun TOM girls again… carly, elke, heidi fay, teresa, amy (elizabeth's twin sister) and more. thanks for the fun day, my friends! it was a slower day than expected. but in the end, we still went out on a good note. so thanks to all those who came and shopped. and thanks to those who let me buy their unloved items for cheap prices. and thanks to elizabeth for all the laughs. and for the job. and the great memories.
and if you ever see amy, feel free to ask her about our adventure in the elevator when we returned these: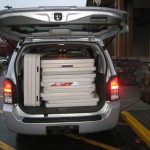 to their home in an upstairs classroom at CTK. (yes, that is my pathfinder, loaded down with 14 6-foot long tables. another 8 were loaded into elizabeth's van). our adventure involved my hip (or my bum) dialing the "help i'm stuck in an elevator" button. yes. i'm serious. and we couldn't stop laughing!
so to all my TOM girls… and to our loyal, faithful customers and to our friends, this is what Treasury looked like when Elizabeth and I left last night around 5: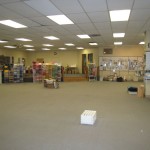 quite empty. oh Treasury, how i will miss you!
(side note: the name "treasury of memories" will live on locally as a custom & wholesale vinyl order provider AND as a kit provider – magnetic calendars, mini books, etc. AND as an invitation business! so even though the store front is closed and gone, there are still opportunities to enjoy and experience some of what made treasury so great – the employees… the TOM girls!)