it's time to get you caught up on photos and other odds and ends.
10/24/09: samantha's party (pink & orange & polka dot theme):
Do you remember the nursery rhyme that includes the following phrases? "little jack horner sat in his corner…." and "stuck in his thumb and pulled out a plumb…?" well, that was samantha enjoying her rainbow chip cake with vanilla icing (which was colored pink and orange thanks to food coloring). she kept sticking in her thumb… and she'd only eat the cake from her thumb. no other fingers. it was a wee bit comical. such a dainty little girl!
sam got some great presents… a princess puzzle, a stroller, baby dolls, diaper bag, doll clothes, crocheted hats, MP3 player (baby style, that is!), cute sneakers that are currently too big, dr. seuss books, an olivia book (and two other fun books), some new clothes, a purple leap frog puppy, a baby doll pack-n-play, a ball popper and so much more! and from what i hear, there are a few other presents pending. what a spoiled little girl!
10/25/09: dedicating samantha at church: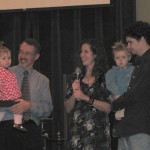 (i apologize for the grainy-ness of this photo… i had to doctor it up so it could even be seen – no flash… low/bad light makes for a difficult to see photo!)
10/27/09: samantha at the doctor for her one-year well-baby check: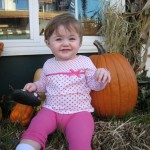 (outside the dutch bakery where we ran in to grab some dinner rolls while waiting for the doctor's office to open up from their lunch break)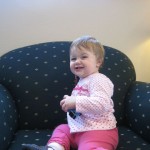 (cheesy grin in the waiting room)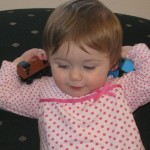 (saying "hello" on the "telephones" which are really thomas the train cars)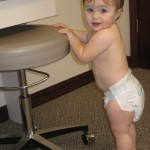 (waiting to see dr. dave… i think she looks SO TALL in this photo!)
- she's weighing in at 25 pounds 4 ounces (95th percentile – and 2 ounces more than she weighed a week ago on the same scale!)
- she's 31 inches long (95th percentile)
- her head circumference is 29 cm (90th percentile)
so all in all, she's a big girl…. such the opposite of her brother! she got FIVE (5) shots at her appointment and none of them were combined. after two shots, carol had to get some additional help to hold samantha down for the last 3 shots. it was awful. and i was there, helping to hold my baby girl down. ugh. but i know it's what's best for her. i just wasn't prepared for it – AT ALL…. davey was always so easy. he'd cry and fuss and kick, but not like this. and let's face it, even though he's older, i just don't think he's as strong as she is!
as for me. i've been busy with my Bible study ("The Bad Girls of the Bible") and getting into a groove with working for Strategic (now that I'm all done at Treasury of Memories) and trying to "regain" control of my home (including eradicating clutter and excessive dirt)!
dave and i had a wonderful opportunity to take jeff & taryn out to dinner at giuseppes restaurant for dinner on monday evening. it was our wedding gift to them – dinner and our TIME. we had a great evening. we (easily) polished off a bottle of wine. we all loved our entrees. we closed the restaurant (well, we were the last to leave, at least) at 9:30 and then we finished off our evening with some hot tea at jeff & taryn's condo. it was a WONDERFUL evening and i hope it's the first of many evenings we get to spend with them!
wanna know something cool? today (tuesday) i put samantha's hair into PIGTAILS! yep. i didn't think she had enough hair up there. but she does. and it's darn cute. and you have to wait to see photos! :)