what did you do today? i started my day a little earlier than normal. i was at jessica's house by 8:20 a.m. we made our way to the mall (which doesn't open until 10) to get in line at old navy for the big sale.
we had a small set-back at kohls…. we were locked in. we could SEE the SHORT line forming at old navy but we couldn't get to it. and we started to panic. were we going to make it? before the rush? in time to be one of the first 50 customers for the "stuff your sack" (or stuff and sack or something like that) sale?
thankfully, kohls took pity on us and opened their door to the mall earlier than they might normally. and we were number 7 in line: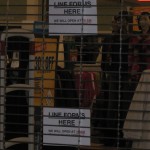 i'm saying "we" b/c we used jessica's GAP card to participate in the sale. i do not have a GAP card. i do not need a GAP card. i do not want a GAP card. but i like sales. and jessica knew that!
by 9:50 a.m., the line had grown quite a bit: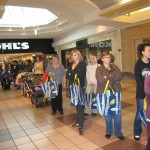 but when the bags (aka: the sack you must stuff) were handed out, we did it! we got the GOLD bird. that meant we got an additional 50% off our ENTIRE purchase. it's normally only 30% off your purchase. but today, for the first 50 customers, it was 50% off. AND WE SCORED THE COVETED GOLDEN BIRD BAG! (and all your purchases did NOT have to fit inside that bag!)
we saved a place in line for our friend, shelly. she had a baby last week wednesday. seriously. little nathaniel. he is a cutie. and a sweetie. and i met him for the first time today.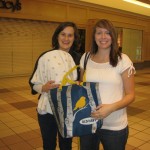 but the day gets better. while we were standing in line waiting for the gate to open into old navy, we saw it. the glorious RED SIGN that says all clearance items are an additional 50% off. seriously. i got flush with excitement. giddy at the thought of 50% off clearance prices and an ADDITIONAL 50% off that because we were getting the coveted golden bird bag. i kid you not. i was like a kid with a quarter in a penny-candy shoppe. just ask jessica. i. was. GIDDY. and i DID confirm with an employee (before the glorious gate was opened) that the i could really get an additional 50% off the already 50% off items.
when those gates opened, it was literally a FLOOD of women speed walking and running through the store. i zipped STRAIGHT to the kids' clearance sections. there wasn't much. seriously. especially for boys. but i did snag about 10 shirts for davey and some stuff for samantha (skirts, shirts, 1 pair of pjs, 1 pack of tights and 2 pairs of capris). i also found a few baby items to purchase as gifts for upcoming showers.
and then i wandered to the womens department. where i shopped. and shopped and shopped. i tried on a TON of items. and in the end, i treated myself to quite a bit of new clothing. and here's what i got: yoga pants, yoga capris, jean shorts, jean skirt, khaki skirt, sweater, 2 long sleeve shirts, 1 blouse, 1 t shirt, 3 tank tops, 3 pairs of pj pants and 2 l/s pj shirts. all for about $85.
when i got home, i realized that i, accidentally, REMOVED the jeans from my "to purchase" pile b/c i thought it was a duplicate. turns out the jean shorts i bought were the SAME FIT as the jeans i decided to purchase. so instead of moving a duplicate pair from my pile, i removed the ONLY pair of jeans from my pile. oh well. i still got some great deals.
(in case you're wondering, i DID look for some stuff for dave. but he's actually pretty "set" for clothing and i don't think he would've liked what they had).
after that, we dropped our bags at the car and had lunch in the food court. we got to eat with shelly, baby nathaniel, shelly's mom (linda) and andrew & lizzie (shelly's other kids – lizzie is 6 weeks younger than davey and they LOOOOOVE each other!). we ventured to payless shoes (i had a 50% off your purchase coupon) where we both got "ultra low no show" socks. and i got a pair of shoes. and jessica got some slippers.
we returned to our lonely cart at kohls and finished our day. (at kohls i bought jeans, black dress pants, a sweater and a necklace). if you include the two sweaters my mom bought for me last night at macys, here's a (poor lighting) photo of all of my new goodies: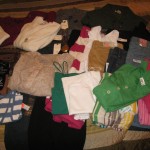 and a close up of the shoes: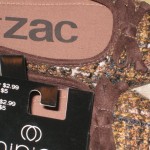 and that, my friends, was my friday morning to afternoon. how about you?