it's the first day of october. where has this year gone? my sweet little girl is almost one! today i plan to make her birthday party invitations.
i have the day "off" from the store today. i'm ready for a little break (i go back tomorrow morning). our household seems to be back in good health (though the kids aren't up yet). i still have a bit of a head cold, but i haven't taken any cold medicine in a few days and i seem to be doing fine without it.
i'm not sleeping much these days, but i'm sure that's all related to the store. probably another week or perhaps two before we close? we've sold out of so many things. every time i go back into the store, it's a total shock. empty shelves. missing fixtures. sold paper trays. it's getting a bit depressing. but we continue to move stuff around, attempting to fill in the gaps. and yesterday, miracle of all miracles, I LEARNED HOW TO USE THE REGISTER. i kid you not. i've been at treasury for almost 3 years (november 2006 was my first class) and it was only a few months ago that jolene made me learn how to ring up my own supplies. and yesterday, i was a cashiering-machine for customers. with so many different prices on paper (seriously – .33, .40, .50, .65, .69, .70, .79, .89, .99 and up) it was too intimidating. but since i spent all last week standing at a counter and pre-counting papers and pre-cutting ribbon for customers, i learned paper prices pretty quickly. well, not all of them. but most of them. so i was a register-working maniac yesterday. made me tired.
this morning i'm looking forward to my Bible study. we're doing the book The Bad Girls of the Bible. chapter one: Eve. pretty interesting. the book itself is easy to read and pretty insightful. but the study guide? deep. seriously. should be some good discussion this morning.
and you're tired of hearing about me. i'm hoping to take some 11-month photos of samantha today. that's the goal, anyway. if not today, than on saturday. hopefully she'll cooperate! but in the meantime, here's my sweet girl and her brother sitting next to each other in the backseat of the pathfinder: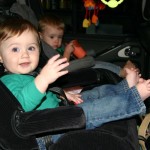 yep. i think she likes being a "big girl" in her big girl car seat. (jenn, i haven't ignored your comment. i'm still thinking it through. it's tough b/c i have some friends who have been in pretty bad accidents and the reason their kids left without a scratch is they were in forward-facing car seats. otherwise they'd had glass all over their face – perhaps in their eyes and mouth…. so i'm still thinking about forward vs rear facing. though with samantha's current car seat, i haven't got a choice – it's forward facing only. i appreciate your thoughts and i am not ignoring them. so thanks for sharing!).
new stories of both kiddos coming soon. hopefully with photos.