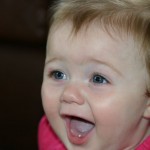 "why is this little girl so happy," you ask?
well, if you could FINALLY wear a bam-bam style ponytail (directly on top of your head, sticking straight up), wouldn't you be happy, too?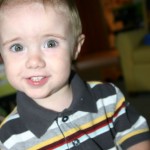 and this little guy is pretty happy about his fun hair, too (even though his face is more goofy than happy here). it's getting too long to spike (darn – time for another haircut!) so when i actually "do" his hair, it turns into a faux hawk. totally cool.