today i go to work.
karla ran in this morning to buy some ink trays for display and some more paper for her upcoming show. she said there were about 100 people lined up outside before the doors even opened (at 10). THAT. IS. A. ZOO!!! so at least i know what i'm getting into this afternoon/evening… kind of.
i have limited time, so instead i'll share a photo of davey in his new jacket from nana:
i did make him go find the football. it seemed appropriate. maybe, one day, he'll have a real letterman's jacket (though i'm hoping more for basketball than football)! such a cute kid!
and here's davey's new favorite way to play with samantha: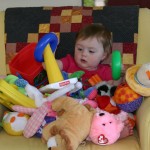 many of her toys piled into her lap. and around her. and on her. and she didn't even squawk… just started playing. such a sweet girl.
happy tuesday! it's almost 80 degrees and SUNNY here. and i will be inside a building with papered windows. sigh. but it's okay.