today is monday. i hope today goes better than last monday. last monday evening i had an employee meeting at my favorite store in the whole wide world: Treasury of Memories. i've been teaching card classes there since november 2006 – almost 3 years! (minus a few months of maternity leave with each baby)! and elizabeth (store owner) dropped a major BOMB on us:
"the store is closing."
yes. closing. not selling to another owner. simply closing. in one week.
(i won't tell you that just a few weeks ago i had a NIGHTMARE. when i went to work to teach the next day, i told Elizabeth about my nightmare and that i needed her reassurance it wasn't true. my nightmare? yep. that the store was closing. i did wake up in a panic. and this nightmare was a few weeks ago. totally weird. really weird. but i wasn't going to tell you about it. but i just did. oops!)
this employee meeting was last week, mind you, so yesterday, i spent my afternoon and early evening at the store working SO HARD to get things priced, move fixtures from the back room, move all of our backstock product onto the floor. CRAZY! i think there were about 15 of us working throughout the day to try to get everything done. it didn't all happen. so some amazing TOM girls are returning today to finish the job(s). i've got the kiddos and can't help today. but i will be working at the store, 3 days a week, until it closes. we're thinking it'll last a few weeks, but it might only last a week. we don't really know. it depends on how quickly everything sells. and i do mean everything.
for those of you who know me, you know that this store was a 2nd home to me. even before i worked there, i LOVED to go into Treasury. they knew my name (kinda like that opening theme song to the TV show Cheers?!). they were friendly. helpful. VERY helpful. they even designed a class just for my two friends and i when they learned that we were VERY disappointed with our COLLAGE class we took at a scrapbooking convention (remember that, Taya and Kels?)! it was the first store where i finally "caved" and spent more than a dime on one sheet of paper. (let's not mention that i will now drop $1 a sheet without batting an eyelash)! i learned how to make layouts and cards and canvas projects and mini books and other fun things. i took classes from "scrapbooking celebrities."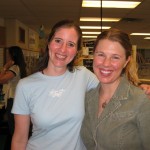 i learned how to use the giant, scary die cut machines (thanks, shawn). i was on the Design Team (to make store samples in exchange for free product). i became a TEACHER (of cards). i met awesome people – both employees and customers. i had MANY, MANY laughs. i even ooked forward to the days (years from now) when my kids would be in school so i could actually work on the sales floor!
and now it's closing it's doors. it makes me sad. it makes all of us sad. it's hard to say goodbye to something like that. it's not just a store. they're family. my family. and while i know, without a doubt, that Elizabeth is doing the RIGHT thing for her family (she wants to spend more time with her two young boys, who can blame her? i'm a stay-at-home mom and i feel SO GRATEFUL!), it's still hard. very, very hard. and these next few weeks will be exhausting – both physically (i haven't worked retail in a long, LONG time) and emotionally.
so if you think of me, please pray for me. please pray for my family. i'll be away from my kids a lot during the week. dave is still REALLY busy at work. so this is going to be hard for us. i'm so thankful that my mother-in-law is willing to watch the kids once a week for me (most weeks). and i'm overwhelmed by my dear friend carrilee, who wants to take the kids as often as possible so i can spend as much time as possible at the store. i am blessed. abundantly. and please pray for the rest of the TOM (Treasury of Memories) girls. this is going to be hard on ALL of us.
(**all photos in this post are from 2006.)