i'm a slacker, i know. trust me… nana is sending me messages that she must see her grandchildren. i don't blame her. the kids are wreaking havoc in my house right now, so here's one photo to tide you all over until i make an opportunity to share with you again (hopefully later this week):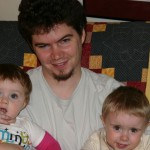 we went to bed bath and beyond a week ago. we were in the section with the home scales. so i weighed myself (i'm not telling). i weighed davey: 26 pounds. i weighed sam: 24 pounds.
so there you have it. my kids are almost twins. and my daughter, at 10.5 months weighs more than davey did at a year. and a year and a half, even! in fact, i think it was just 2 months ago that he weighed 24 pounds and she was 22 pounds.
she's a chunk!