so last week monday, this little girl hit the 10-month mark. i finally got some photos taken on tuesday or wednesday while davey was napping. we went outside on the porch swing. so i had natural light, but that only helps so much… she wasn't really willing to sit still. not even for one photo!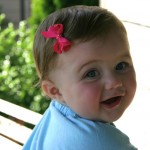 Samantha Jane, at 10 months, YOU ARE:
- crawling faster than we imagined possible (your brother hardly ever crawled so this is new for us)
- you will eat anything that we give you, as long as you can feed it to yourself
- you will, however, allow me to feed you tasteless baby oatmeal – and you LIKE it!
- your smile is still larger than life and you share it all day long
- your laughter is still few and far between, so we treasure it when we hear it
- your eyes are still very, very blue
- you're just now moving into some 12-18 month clothing
- you weigh over 22 pounds
- you're wearing size 4 diapers (and you have been for several months)
- you love to make this duck-lip, wrinkled rabbit nose face
- you enjoy "fake" coughing
- you LOVE to play peek-a-boo
- you've been sleeping through the night (thankfully) for awhile now
- you may have taken your first step yesterday (8/31/09)
- you LOVE taking a bath
- you are relatively FEARLESS – whether it be in the water, on the edge of the bed or couch – i'm afraid you're going to cause me some moments of real panic
- your hair is at this weird growth stage… but it is growing in thick
- you are a true DELIGHT when you wake up from a nap
- you ADORE your big brother AND your daddy
- the closest you've come to saying any words is "ba ba ba ba" and then you joyfully stopped when i gave you your bottle
- you are MESMERIZED by music (especially when there's singing on tv) and you like to "dance" to it (you shake and wiggle and move the top half of your body)
- you LOVE to watch mama dance!
you are cuter and sweeter than we ever could've imagined. thank you, sweet samantha, for joining our family. for being our little girl. and for loving us unconditionally. we love you, too!
as for her 10-month pictures, i tried, i really tried. she is so UNcooperative these days when it comes to the camera. i just can't get her to smile for me. or sit still. so these are the best of the worst from her 10-month photo shoot.
in case you haven't seen it enough already, here's sam making "her" face: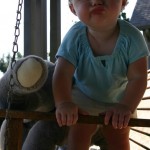 wait…. just in case you've missed it, here she is doing it again: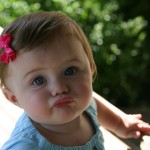 i think i have about 10 photos of her doing it… just from this one session!
i've titled this next one: "say what?" i just think it's funny.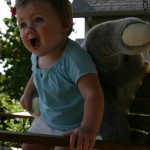 and finally, another one of my favorites from the day: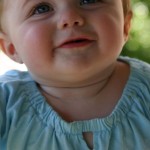 happy september, everyone! today i get to go work at the scrapbook store and i'm excited for a change of pace. a chance to breathe. an opportunity to focus.