okay. b/c i've been requested to return to photo sharing (though only one person seems to have noticed my blogging absence… really? only one? does anyone actually read my thoughts? no matter. their mine. and i will continue to share them…. i digress – as usual)…
on labor day, we had zero plans. love that. sometimes i hate it. this year i loved it. dave wanted to use his smoker at least once this season, so on sunday evening we ventured out to get some pork. and wood chips. and stuff like that. and dave found a new smoker (on sale) that he really wanted….
so i gave in and here he is with his newest toy: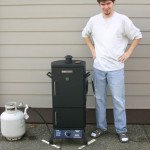 we had bbq pork sandwiches late on monday. and we shared them with jeff and taryn. yeah! they were SOOOO good…. hopefully we'll use this guy more than once a year! additionally, we have an extra smoker if anyone's in the market for one…..
earlier in the day on monday, though, we had a fun, surprise visitor…. AUNTIE RACHEL! the kids had runny noses (they had them for over 2 weeks!) so we couldn't go play with rachel's other nieces & nephews (from her husband's side of the family) so the kids got Auntie Rachel (or "auntie wachel piderman" as davey calls her) all to themselves! she delivered THE CUTEST homemade barrettes for samantha. Ashley (married Ben, Sterling's brother) made them for Samantha and we need to send her a thank you card. in the meantime, this blog post will suffice. apparently, she also has an etsy shop that i need to find. but here's sam modeling some of the barrettes:
davey had fun with auntie wachel, even though she did not have any barrettes for him (though that doesn't stop him from wanting to wear sam's….):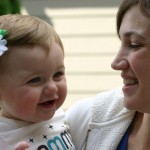 it was a relatively relaxing monday that we spent together as a family. we need more of those kinds of days around here!