today is tuesday.
and now, our saturday in seattle story continues…..
after our rear-end collision, we continued on our way to visit auntie rachel. uncle sterling had been called in to work around 9 a.m. we ended up not seeing him until dinner. we started our adventure with lunch and play time around the apartment. rachel & sterling have a cute little apartment in a small building in a residential area. i can totally see why they love where they live. it's a beautiful area. peaceful. filled with families. but just 10 minutes outside of the city. BONUS!
so auntie rachel pulled out some of her items left over from her teaching days – stickers, a pointer, a microphone…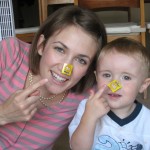 …though davey liked the stickers the best. davey, daddy and samantha ended up wearing stickers all day. ALL DAY. multiple stickers, in davey's case. we should have used them to hide his chocolate milk spills on his shirt!
after lunch, stickers and fun in the apartment, we headed to lincoln park and the kids' area. davey had a BLAST playing on the play structure. he was brave and climbed stairs, ladders and more to make it to three different slides. and he peeked in and out of window bubbles (not sure what they're actually called). and ran around and had a grand-old time!
this cute girl: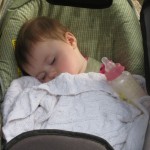 did go to the park with us. but she fell asleep on the way. and stayed asleep through the move from the car to the stroller (in her car seat) and for the majority of our time at the park! she did wake up long enough to get out and walk around (with daddy's help), though she was still a bit out of it (gotta love that dazed and "still sleepy" face)!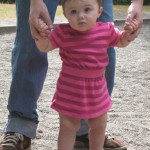 since i was dressed for a totally different kind of day, i was wearing heels. yes, heels. with my jeans and nicer black top. the pea gravel at the play area was driving me crazy (getting stuck in between my toes!) and even though we wanted to go to the beach, i knew i couldn't make the trek in my heels. they're cute heels. but not the most comfortable. so we had to leave the park and stop at target to pick up some flip flops. for $4.88 (clearance price) i got a super-cute, new pair of flip flops. hot pink with thick black straps that are actually black with small white polka dots! LOOOOOOVE 'em! auntie rachel picked up some spiderman necessities for davey in the $1 bins… two books, a coloring book and crayons.
then we drove to Alki Beach (where we went with rachel, sterling and davey last year: see this post). but i'm saving those photos for tomorrow. oooo. evil me. i know! :) but if you see beach photos tomorrow, you might get lucky to see photos from the NW Wash Fair on thursday (dave's taking the day off tomorrow so we can take the kids – mostly to see the animals). hooray for The Fair!!!