on saturday, we headed down to seattle. the plan was this: dave and the kids would spend the day with rachel (dave's sister) and (if he wasn't called in to work) sterling, rachel's husband. i, on the other hand, would drive our vehicle from rachel's place in west seattle to my dear friend, kelsey's church (about an hour away) in lakewood. i wanted to be there to support her through her father's memorial service (he passed away last weekend from a heart attack).
everything was going well. we got out of the house more-or-less on time. the kids were doing great. and then there was some MAJOR slamming on the breaks in front of us. screeching tires. smoking tires. swerving (within our own lane). we were THIS CLOSE to rear-ending the car in front of us. i think about 4 cars in front of us, for unknown reasons, slammed on their brakes. and then, as soon as i thought "whew, we're safe." BAM!
SLAM! WHAM!
i kid you not. WE got rear-ended. the four cars in front of us pushed their gas pedals and went merrily on their way. we, however, had to pull over to the LEFT shoulder of I5 at exit 175 (3 or 4 lanes of traffic) b/c we were in the left lane when the accident occurred. dave called 911. within minutes (before he even hung up the phone), the incident response DOT truck had arrived. we were all safe (including the kids). the two ladies in the vehicle behind us were safe, too. so the incident guy stopped traffic. had us pull over to the right shoulder. and called the State Patrol.
we were able to get out and check out the damage. this is our bumper now (after the accident):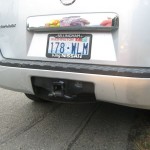 some scratches. some dents. some dings. so as long as there's no frame damage, it's a purely cosmetic situation. though we will get our bumper replaced. there's that many scratches, dings, dents and bumps.
here's the car that hit us: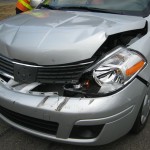 quite a bit more work is needed to get this guy back on the road. it was two older ladies from arizona on vacation in washington. staying at a friends' house in edmonds. the friend, however, was in europe. they were supposed to drive home today. instead, their car is in a body shop somewhere. hopefully they can head home by the end of the week.
we were able to continue on our way to rachel's house. but after that incident, i was not interested in driving in crazy saturday traffic on I5 in an unfamiliar area by myself. so i had to skip being there to support my friend. i'm sorry, kels. i know you understand. but i still really wanted to be there.
tomorrow i will share with you the better part of our journey… our day of adventures with aunt rachel and uncle sterling in west seattle! for now, i'm hoping all of our accidents with this pathfinder are finished. i'm tired of taking my vehicle to the shop!
********
side note: last night, sam woke up around 3. i held her. rocked her. got her almost to sleep twice. sigh. i think it was after 4:30 when i finally got to go back to bed myself. and that was after finally giving in and giving her a bottle (though she didn't wake up at 6 for one). so with her, i'm taking one day at a time. one day victorious on the sleep front. the next day, not-so-much. but i do love her anyway.