i've had a tough week. i got some bad news this week about some friends and i'm taking it quite hard. i'm not at liberty to discuss it, but if you would please keep "tam's friends" in your prayers, that'd be awesome.
all that to say, the PERFECT way to spend friday night (as a family) was at a SURPRISE party for dave's good buddy, Justin:
i won't tell you that i almost blew it b/c i was watching the door through the camera and i had no depth perception, so i yelled "SURPRISE!" about 30 seconds before anyone else did. sigh. but it was still a success.
i took a lot of photos at the party, but i'm only going to share a few with you… and it turns out that i'm sharing all "family" photos… starting with Justin, Brandi, Emma & Jaden: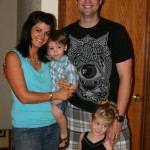 (by the way, these dear friends of our are going to be moving BACK into our "neck of the woods" here in lynden in less than a month… i am SO EXCITED!).
Brant, Trisha and Joshua Baron (Brant is Brandi's brother) – they hosted the party at their place: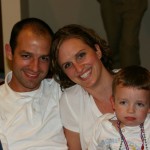 i regret that the summer is over and we haven't yet invited them over for dinner!
you already know us, Dave, Tam, Davey & Samantha: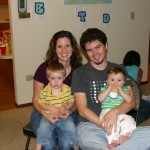 (thank brant for taking this photo)
Danny, April & Logan Strid: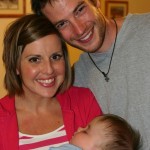 and in case you missed that precious face, here's another look: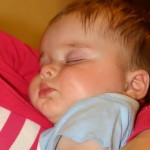 justin was surprised. so the evening was a success!