last saturday, dave had a work meeting around 11 so we decided to take the kids to downtown bellingham for a fun saturday morning treat – DONUTS! there's a cool (slightly overpriced) donut shop called Rocket Donuts. every once in awhile, dave will go there at the start of his work day and get a donut and some coffee. he usually gets the "simpsons" donut (glazed donut with frosting/icing and lots of colorful sprinkles). sometimes he branches out… but i think that's his favorite.
variations of this sign are on every table, napkin and coffee sleeve in the place:
we let davey choose what donut he wanted. it was a big decision for a little guy!
but in the end, he followed in his daddy's footsteps (or donut choice):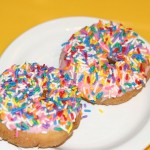 … and went with the sprinkles (what kid wouldn't?!)!
then we sat by the giant robot and dave had one of the workers turn it out. the eye mask moves up. the eyes light up (red) and i think he talks or something. the robot is from some old movie. there are old movie posters framed around the donut shop. it's cool. old school cool.
now davey would like to talk to you about proper donut etiquette…
first, you take a big bite and chew it all up: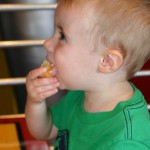 then you wipe your lips with a napkin – gotta remove those crumbs!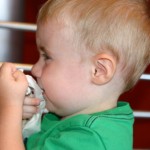 then you check out the sprinkles on your pants: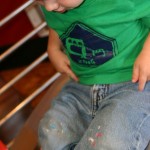 and you try to brush them away!
if you're sam, you willingly eat any bite of any donut that is offered to you. then you snatch your bottle from mama's hand and take a giant SWIG from it.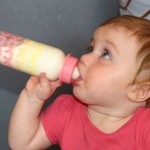 i'm so glad i captured this shot of her drinking her bottle. it's what she does… all the time… with it. grabs it. quickly swings it up to her mouth and starts chugging with it off to the side like that. we always talk about napolean dynomite when she does it… remember that scene where he chugged that gatorade after practicing his dance moves? yeah. samantha's kinda like that!
we had time for a few quick photos outside before dave had to head up the street to the office. it was a very sunny day. a little chilly. but sunny.
and i only wish we had driven away in this (the Rocket Donuts car)!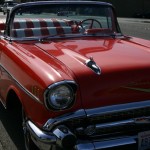 so the next time you visit us, remember to ask us to take you to rocket donuts. davey talked about it for a few days. which in the life of a 2-year old is, perhaps, an eternity!