in case you were wondering, i have missed you. i've missed sharing stories. and photos. and emptying my brain, which is currently overflowing with far too much. so in a nutshell, after great grandpa & grandma went back to ohio (all the other relatives had already gone home), we began a 2-week journey with nana sarapata's visit.
we visited the raspberry festival, where davey got to sit on some tractors (and he LOVED it):
(i love that his super heros sippy cup is in the cup holder of the spendy john deere tractor!). we ate some yummy food, too, but i didn't take any photos of that.
we had a surprise 30th birthday party for dave at The Spit:
we had some HOT weather, so the kids learned all about otter pops: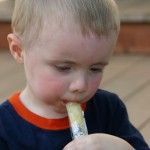 (they love them).
davey made a new friend (a gross spider that lives between two trees in our neighbors' yard). multiple times a day, he and nana would go and check to make sure the "pider till dere" (the spider is still there). even now, weeks later, he still talks about the spider and whether it's there or sleeping (hiding in the tree).
we had a play date at our house with cece fankhauser: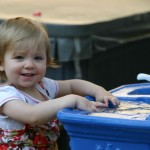 we had a fun playdate with will & sam harvey, where davey got to ride a dinosaur, play & slide in a bounce house and jump on a trampoline:
nana inflated the kids' pool and they enjoyed playing in the water:
i cleaned the garage. and various areas of the house. i worked on de-cluttering a few spaces.
dave and i got to go away for TWO NIGHTS to celebrate our anniversary! we spent sunday & monday night at The Chrysalis Inn and Spa in Bellingham. our kids were in good hands (nana) and we enjoyed our time away. we walked into fairhaven and down to boulevard park (where we got engaged) each day. we enjoyed yummy meals where we didn't have to clean-up after the kids or say things like "sit down" or "stop whining" or "please eat your food" or "don't throw your food on the floor." we got massages (well, one each). we had dinner with friends (where we closed the restaurant!). we watched some sunsets. we ate gelato. we wandered around some stores. it was a grand time away. and it was much needed. we hadn't been anywhere since being in the hospital when sam was born. and we'd only been away from davey (together) one night before that (a year ago in february). so it was time. definitely time.
we had to check out by noon but we didn't want to go home quite so soon, so we drove up to nooksack falls (hoping for some cooler air temperatures – didn't happen). and we got home about 48 hours after we'd left. maybe a little less. like 46 hours.
then, a few days later, nana was gone. and i was getting ready for the big garage sale (where i earned $477, thank you very much!). i ordered over 600 (almost 700, actually) prints from costco. and i couldn't use my 9-cent coupon (b/c i was a day late). thankfully, when you order over 500 prints, they give you a deal already: 10-cent prints. so i was only out about $8.
and now. now it is very clearly august. our calendar isn't overflowing with things to do. places to be. people to see. we're enjoying the slower pace. i'm still cleaning and purging and organizing. but it's at a different pace. and it's not sandwiched between this activity and that activity.
i spent last friday making up for my lazy and tired-self during the week. today, i'm trying to finish up a few other projects that were started but have not been completed. that's this week's goal: to finish these projects. get my mind back together. and then i can try some new things – like some new recipes. it appears that this will be a cold (low to mid-60s) and rainy week, so it's a good week for me to try to get some more stuff done. finished. off my list. so i can breathe again.
and this also means i should be able to get back to "regular" blogging again. like i said, i've missed you. i hope you've missed me. us.
until next time (tomorrow?), happy monday!