final installment of our seattle saturday adventure. i promise!
we made it to alki beach. it was a bit breezy and chilly. it was later in the day (almost 5, i think) but we wanted to walk along the beach. let the kids get their feet wet. that sort of stuff. davey still has ZERO interest in the water. it still SCARES him. he freaks out. not in a major freak-out way, but he has NO interest in getting his toes wet. and he tends to get upset if other people do. he does this every time we go to The Spit, too. silly boy. i really want my kids to LOVE the water. i sure do. but again, i digress…
this was sam's first experience with actual sand, since The Spit and Birch Bay are all rocky. she didn't mind the sand. but she was not a fan of the water (getting her toes wet, that is). i can't blame her. it was COLD!
for some reason, i LOVE that last photo. i know i look weird. but there's something about dave & davey that really makes me happy. and i like the angle of the photo. that sam and i are in it. yeah. i could go on with random reasons why i like this not-that-great photo. but i'll stop.
it's really, REALLY hard to get a good family photo these days. trying to get two kids looking at the camera at the same time….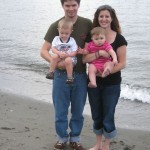 nearly impossible. thanks for trying, rach!
just a cute one of sam & i: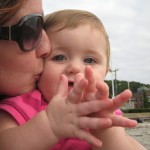 this is dave's log. he worked HARD to get it out of the water without getting wet. he ended up getting wet. davey was quite concerned about that. but he didn't throw a fit when dave's shoes (and socks) got wet. whew. i think it's funny that dave looks pretty short in this photo! it's the angle… and his rolled up jeans.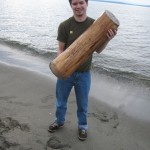 after the beach, we headed back to the apartment to meet up with sterling. i fed the kids some dinner. davey got to color in his spiderman coloring book with his spiderman crayons (which are safely tucked away at auntie rachel's house for our next visit…. which will hopefully be sooner than one year from now)! and then we went out to eat at a thai restaurant. supposed to be one of the best in the area. or the best. it's called Buddah something. not "Buddah Something." but "buddah" and i can't remember the second word in the name of the restaurant. the food was tasty. the kids were relatively well behaved.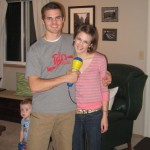 after a final, quick stop at the apartment for a quick kid bath (yeah!), it was time for us to head home. davey went napLESS the whole day and was, surprisingly, a well-behaved, non-tantrum throwing, non-whining little dude. he had a few issued in the restaurant, but i don't think they were non-nap related. both kids were asleep pretty quickly (as we had hoped). and then, unfortunately for dave, i nodded off, too. from everett to bellingham. and then again from bellingham to lynden. i tried to stay awake. i really did. but it had been a long day.
a good day, despite being rear-ended. and yes, rachel, we will come and visit you again sometime. like i said above, hopefully sooner than a year from now!