while i was busy doing who knows what on saturday morning (i'm pretty sure i was cleaning our bathroom closet and/or taking a shower), this is what my boys were doing (sam was taking her morning nap):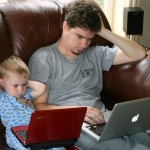 i love it. so darn cute. oh yeah… did i tell you about davey's "yaptop?" dave was looking for an excuse to buy one of these netbooks. davey's birthday was the perfect excuse. he didn't tell me he'd ordered it. heck… he didn't even tell me he'd ordered ANYTHING for davey's birthday until he was frustrated with FedEx for failure to deliver on time. and when dave told me "it's just something little," i was thinking small in terms of cost… not size. so now davey have his very own netbook. it connects to the internet, so he can watch "thomas choo choo train" on our instant netflix account. and it has a camera so he can SKYPE with people (mostly with daddy at work). and dave downloaded Baby Smash. seriously the greatest program ever invented for the wee ones. if you have little ones that are too little for actual computer games and things but are obsessed with your computer (like davey is), this is the greatest thing. just google it. it's pretty cute. and i haven't found it annoying yet.
and since you know i've been busy cleaning, purging and re-organizing, i thought maybe you'd want a peek at what i've been doing?
bonus room (new toy storage unit):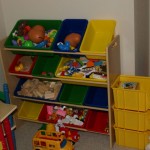 i've been wanting one of these units for quite some time. i've stalked craigslist and have been "THIS CLOSE" to snagging one – TWICE! i finally sucked it up and bought one new with my garage sale earnings. i got lucky and it was on sale for $52.99 (instead of $59.99). we hung two shelves above it for "parental assistance" toys (like play doh, crayons and other goodies).
here's my recently cleaned bathroom closet (it was an overflowing jungle of a mess, but i neglected to take "before" photos, so here's the "after"):
neat. tidy. organized. clean. everything in it's place. everything has a place. sigh. it makes me happy. i feel like i can breathe easier. i know i'm weird. just go with it, okay?!
and my new pantry shelves: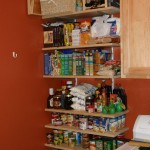 i thought this system would give me more storage. i was wrong. i actually have less storage space (but don't tell dave – he's still frustrated about the project in general). BUT i do like this storage SO. MUCH. MORE. than what i had before. so to me, it's still worth it. and i'm still glad we made the switch, even though i have to find a new home for some other stuff now.
and that's all you get for today. i've got more things on my list that haven't been accomplished yet, but i'm not stressing it. one day at a time. one project at a time.