thursday was a wild day. this whole week has been pretty crazy. that's what happens the week of a family wedding. lots of out-of-town visitors. compounded with the reality that our JULYs will always be crazy with birthdays and anniversaries…. but i digress.
cousin tracy and i had a chance to get out (child free!) on thursday morning to "do" downtown lynden. we wandered in and out of the antique stores where i found some things that i really wanted (i'm in LOVE with all the old, old typewriters and old, old cameras but have no room in my home to display those wonderful things!). [and julie, if you're reading this, i found an original metal scooby doo lunch box you might want to pick up for ian. and something else that made me think of you and i've already forgotten what it was!] i found some some vintage buttons for myself: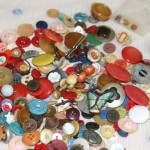 they came in an old, wide mouth jar that i also love. there were some cool non-button things in the jar, too. it's like a real treasure chest! anyone know anything about plastic "washington state sales tax tokens?" i'm serious. it's that kelly green "button" near the upper middle-to-right side of the photo above.
i also found this: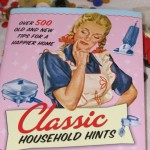 which i could not resist purchasing for my almost sister-in-law, taryn. and i read the whole thing today. mostly while the kids napped. very helpful and useful information. a fun reference book. and now i know who to call when i can't get the brown stain out of my glass baking dish. or the grease out of my shirt. or the mildew off of my shower curtain. seriously. it's all helpful stuff. and the photos (reprints from the 40s and 50s and 60s) are AWESOME! seriously. women cooking in high heels… julie, do you own this book yet? it's right up your alley!
for those of you who think this might not be such a "nice" gift, i intend to pair it with a little "sompin-sompin" for taryn to use in the bedroom. nuf said – she'd be so embarrassed if she knew i just wrote that!
thursday evening, after spending some more time with the family, the kids and i headed to a 1st birthday party (dave was out with the guys "bach'in" in up in style for his brother jeff [aka: he was at a bachelor party]). this sweet girl: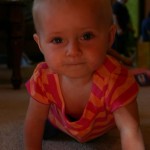 turned ONE. so hard to believe that when i met her a year ago, she looked like this: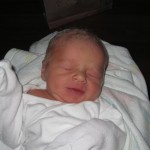 she is a sweet little girl (she really is a peanut – somewhere around 17 pounds…. that's lighter than a feather, compared to my solid samantha!) who love to scream (she really, really does) and knows her own mind already. she can hold her own against any kid (her big brother is a little rough sometimes!) and even though she doesn't smile a lot, she's a happy girl. she HATES being in the car. whether it's the car or the car seat, i don't think it matters… she will not sleep in the car (unless absolutely desperate). her mommy can tell you lots more about jorja. but i think she's a doll and i LOVE how much my son LOVES and PROTECTS her already. jorja was his training to have his own baby sister!
i took over 200 photos at her birthday party (i kid you not!) and am working hard to narrow it down to a select few. i will do my best to provide you with an overview of the party here….
so happy birthday, sweet jorja! we are so blessed to have you in our lives (and your daddy, mommy and brother, too)!
and i STILL have a bunch of photos from the weekend to share with you… but i just keep taking so many more (like the 200 jorja birthday photos) that i'm falling further and further behind in sharing them with you!
the plan for today (friday) is this: pedicures with tracy in the morning. family time in the afternoon. wedding rehearsal (and dinner) in canada in the evening. i also need to take a LOT more photos of my kids with roy & tracy and their girls dori & avari (ages 7 & 4). and a LOT more photos of my kids with great-grandpa & great-grandma… LOTS!