nana left early wednesday morning. the kids miss her. it's pretty obvious. davey can say things like "nana. airplane" (because she would take him outside to look at every airplane that they heard – which were a lot)! and "nana. spider" (b/c they would check the daily "progress" of the spider in shane & michelle's tree to see if he was still there – he is. unfortunately).
so even though davey can verbalize a bit of his feelings for missing nana (well, not his feelings so much, but you get the point)… sam has a different way of telling us she remembers (and misses) nana: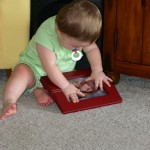 and i think that photo, dear friends, will melt nana's heart.
on a separate note, if you're local, please visit our garage sale at 1217 front street. friday from 9-2 and saturday from 8-noon. i'll be there on saturday. there are four of us selling lots and lots and lots of stuff (seriously – where did we get all of this stuff?)!
additionally, we broke a record yesterday. hottest day on record. 101 in bellingham, i believe. today is was supposed to cool off to 88. it was 95. who knows what tomorrow's 83 will actually end up being. but i can tell you this: i'm darn hot. and i'm really ready to let dave buy air conditioning. not a window unit. for the whole house. 'cuz i don't want to repeat this next year. and my poor kids are hot. crabby. red-cheeked. ugh. it ain't pretty around here right now!