it's so hard to say good-bye to the people you love….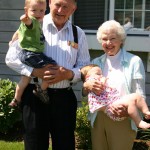 this beautiful couple (minus the wee ones) have begun their red-eye journey home to ohio. they are currently on their way to the airport in seattle. from there, they fly (at 11 p.m.) to somewhere. to connect to somewhere. to end up in ohio tomorrow morning… bright and early. how could two weeks pass by so quickly?
(great) grandpa & (great) grandma, we miss you already! thank you so much for flying out here. visiting us. loving us. loving on davey and sam (great grandma & samantha bonded). and thank you, for your legacy. of love. of prayer. of laughter. of joy.
hopefully we'll be able to fly to ohio to see you in the next year or two! and thank you for standing there and being the object(s) in about 50 photos today! :)