when you've spent the day prepping for a birthday party. and enjoying the party. and then cleaning up after the party. what do you do with your kids? well, if it's the 4th of july, you hand your almost-2 year old sparklers and you let his 8-month old sister sit right next to him…
i don't think sam was all that impressed…. though (as you can see in the last photo), she did clap for the sparklers (and later for the bees)!
this was a timer photo taken in the evening on the 4th of july…. after the party. after everyone went home. after we lit all of our "bee" fireworks. and after we ran out of "juice" in the lighter so we stopped doing the sparklers. this was just minutes before the kids got baths and were put to bed…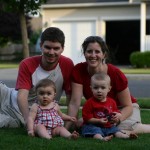 we had a wonderful day with family and friends. it was a long and tiring day for dave and i, as we prepped for the party. i still think it was less work than last year when we had davey's birthday party out at birch bay. hopefully with each passing year, we'll find a way to make the parties easier and easier and easier. got any kids' birthday party tips to share with me?