i'm still going through wedding photos (well, i actually didn't go through any of them yesterday – i simply relaxed. tried to recover. it was 11 p.m. before i had any energy to even clean all the JUNK off my dining room table. and there was a lot of it). so today you get this: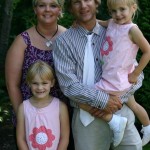 this is the getchell family. the roy getchell family (not to be confused with the john getchell family). i LOVE this family. roy and dave are cousins. their moms are sisters. tracy and i bonded the first time we met (christmas 2002 or 2003) and i get SO. EXCITED every time they come out here (they live in colorado – and we are SOOOOOO planning a trip out there "one of these days"). and i learned something new this visit…. we share their anniversary. granted, they are about to celebrate 18 years of marriage (on july 28, tracy will have been a "getchell" longer than she was a…. whatever her maiden name was! – she was YOUNG when they got married – just 18 years old). but i think that they are an awesome couple for us to look up to and to share our anniversary date.
dori (standing) is 7 and avari is 4. i met dori when she was less than a year old. she puked all over me. formula. and it was warm. and it smelled. and it was disgusting. but i love her anyway. i really do. these are some of the best behaved little girls ever. they're not perfect, but i've never seen them act out. they obey. they ADORE each other AND they LOVE their parents. they are friendly. avari is a CHATTERBOX. i love them both so much.
so sunday night was very, very sad when we had to say good-bye. they were here less than a week this time. and the time went by SO QUICKLY. but tracy and i did get to go shopping in "downtown lynden" one day. and we did get manicures and pedicures the next day. and bless her heart…. she and the girls watched samantha for us on friday night (for the rehearsal) AND she folded my almost week-old load of laundry.
so even though NONE of them read my blog, i have to say this: Roy, Tracy, Dori and Avari… I miss you already. Girls, don't grow up too quickly. I really mean it when I want us to have a family reunion next summer at your place!