so you haven't seen enough photos lately, you say? okay. i can accommodate that. here are a few more photos from the past week….
great grandpa with the kids:
great grandma with the kids (she and sam were GOOD BUDDIES):
samantha learning a new trick… STANDING! and then she decided that grandpa's jeans tasted just as good as great-grandma's hand did last week….
grandpa got this little girl to laugh and giggle longer than i've ever heard before! i think there will be many a "date" between these two!
and who could resist a photo of 2 of the greatest DUNKIN COUPLES of all time?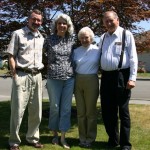 meanwhile, davey is keeping up his crazy antics….
he won't sit on his "cool bike" here b/c he has rocks on the seat so he's pushing them around on the bike (so logical, i know)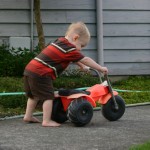 and then he learned about "popping a wheelie" from the kid down the street (at grandpa & grandma's house) so here he is, popping a wheelie…. davey style: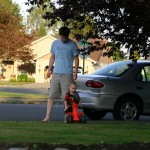 we found a cute frog on the slab in grandpa & grandma's back yard, so we played with him for a little while: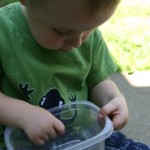 (did you notice that, by chance, he also is wearing a shirt with a frog on it?)
and he likes to eat PB&J sandwiches these days (white bread, no crust):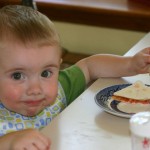 and he now has an obsession with (sun)glasses. a year ago, he wouldn't keep them on his head. but now, he loves them. especially his sister's heart-shaped ones….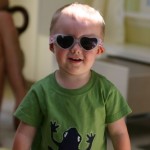 nana's in town for two weeks. she arrived a little before midnight on wednesday. davey and sam are both overjoyed with the constant attention she has for them. and i am overjoyed that i might actually get to ACCOMPLISH SOME PROJECTS while she's here (she can occupy the kids)! some unfinished projects that just need to get done. and some bigger things like cleaning out the garage. you know, the stuff you just can't start & finish during naptime!
today and tomorrow is the Raspberry Festival here in Lynden. so tomorrow we'll pack up the pathfinder and head "downtown" for some pulled pork sandwiches from Jakes and some vanilla ice cream with fresh picked raspberries. it's sure to be a beautiful day and a fun weekend.