i'm seriously melting here. it's 10 p.m. and it's still 88 degrees in my living room. i don't even care to know the temperature of my bedroom. ICK!
a few days (a week?) ago i shared a to do list…. stuff to accomplish while nana was here. the results: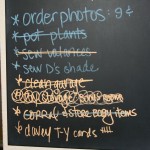 if you can't read that, i accomplished almost everything (though there was one thing on my blog list that was not on that board – and i did not get to it – clean out the bins in the coat closet). so the photos are uploaded (with a few more to add from this past weekend) but not yet ordered. i wanted to wait until the end of the month (friday) to order them, so i knew it wouldn't be finished…. but it's mostly done. the purging and editing are the most time-consuming tasks. i also did not EVEN START sewing the black out fabric on davey's curtains. which means it's still pinned on. as it has been since march. i kid you not. march. but that's okay. nana's coming back in october and maybe i can get it done then! :)
i'm seriously far too hot to continue to sit here and type. hopefully it really will "cool down" to only 88 tomorrow and only 83 on friday. if i had an in-ground swimming pool, i'd be LOVING this weather. but i do not have one. so i am not loving it. AND i'm ready to relent and allow dave to save our pennies so we can buy ac/central air for next summer. this is ridiculous. and my poor kids (especially sam) are balls of sweat when they wake up!