it's saturday the 11th…. what are you doing today?
me? i'm crossing the border (the us/canada border) to go to a wedding. i'm taking a LOT of belongings…. even just for a day away you have to pack a LOT of stuff for kids… sheesh! but it'll all be worthwhile to finally see these two: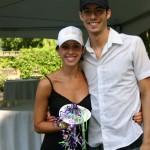 get married. it's been a long ride (engaged for 16 months, i think?). the rehearsal was beautiful. and once again, i proved my prowess at being an amazing wedding coordinator…. or at least someone who knows too much about weddings!
the rehearsal dinner was A.M.A.Z.I.N.G. also. and i am STUFFED to the gills (oh wait, i don't have those, do i? you know what i mean!)! the restaurant took EXTRA special care of taryn and jeff AND of my sweet davey (sam was home with awesome Tracy, Dori & Avari). but seriously… did you have CANDLES in your TIRAMISU dessert at your wedding rehearsal dinner?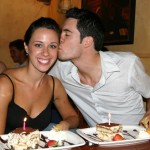 so happy wedding day (FINALLY) to jeff and taryn!