these two: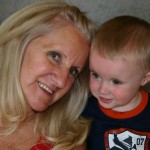 are having so much fun together.
it's been great having my mom here. she's wonderful with the kids. and they both adore her. and i can get stuff done. like cleaning the garage. and reviewing, deleting, editing and uploading photos (over 500 were uploaded to costco tonight). and little things get done, too. like removing the pins from the dining room valences and actually stitching the tabs to be shorter (only been waiting 6.5 years for that to happen!) and finishing up some started but definitely unfinished projects around here (mostly craft-related). AND i'm doing it all despite our heat wave (which i LOVE).
so many thanks to nana for making the journey out here and for tirelessly changing diapers, feeding kids, changing their clothes, going for walks, bathing both kids, playing blocks and balloons and pretend and cars and every thing else that davey wants! nana's gonna need a vacation from this vacation!