/UserFiles/Image/2009/july/both/playing.jpg<![CDATA[
on friday, the kids had a chance to play outside on the deck. they had a lot of fun. sam is getting old enough for them to play together (sort of) now. or for davey to at least play with her – kinda turning her into the/a game. but it works. she adores him. and she likes me even though she's sticking out her tongue. she's really into playing with her tongue these days. not sure why. but that thing makes an appearance multiple times an hour!
on our trip to The Dollar Tree last week to buy party supplies (did you know that Paper Factory at the blaine and burlington outlets is gone?! i'm so upset about it. i loved that store!), i found this hat for davey:
i think he likes it. he needed a hat to keep the sun off his fair head on the hot, hot days.
and this, dear friends and family, is what my yard looks like after finding too many good deals at garage sales and on craigslist: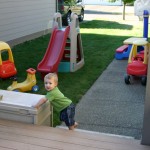 a plastic toy factory. it's a wee bit obnoxious to look at and, according to dave, a royal pain for lawn-mowing!
last week i also acquired a new purse: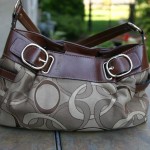 it was a smokin' sale (bass outlet) and i couldn't resist (my red purse is dying a slow death and i wanted to preserve it a bit longer, so this is my summer bag).
and tomorrow i'll share even more fun photos with you. like i said, i've got lots and you haven't seen them all yet!
]]>