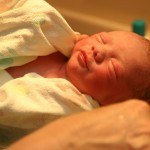 (7/15/07)
two short years ago there were some big changes for the dunkin clan. tom graduated from high school. rachel got married. sterling (rachel's husband) graduated from college. jeff started dating taryn (AND introduced her to the family). and at 36 weeks, david charles dunkin was born. 4 weeks early. a complete surprise to us all.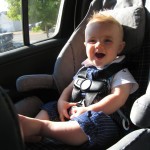 (7.27.08)
davey, at two, you are talking non-stop. you take one nap a day (usually for at least 2 hours) and you don't usually put up a fuss about it. you are well-behaved and you are very smart. you know most of your animals and the sounds they make. you are learning colors and counting. daddy and grandpa are still your favorite people, though a "cool bike" can definitely have an impact on whether or not you want to go see either one of them! you love books and sometimes i'll find you reading books in the morning or after your nap time before you call out to be "released" from the confines of your room! you love to be the center of attention (99% of the time) and you're not too interested in sharing the spotlight. you barely weigh over 20 pounds (22# on a home scale a few weeks ago) and all of your 24-month or 2T pants not only fall down off your waist, but they are also all way too long for you. i know you'll grow, so i'm not worried about it. you have big eyes the color of your mama's (they were blue like your daddy's until just after your 1st birthday). you LOVE to play with other kids and you're pretty good at remembering their names if you spend any length of time with them. you even recognize some of the cars/vehicles belonging to the parents of your friends! you love to color, play with cars and blocks. you enjoy hiding things and moving toys or anything, really, from one "bucket" to another. you are generous, sweet, loving, fun, funny, well-behaved and smart.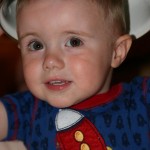 (7.11.09)
daddy and i love you so much, bug, and we know our lives have been enriched because you are in them! we hope you have an amazing 2nd birthday (we're taking you to the zoo in canada!) and we look forward to celebrating many, many more birthdays with you!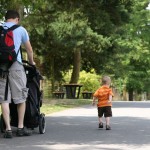 (7.15.09 at the zoo)