yesterday was an absolutely cram-packed day. dave & i took about 350 photos. i'm too tired to look through them all. so here's what you get to hold you over for a bit: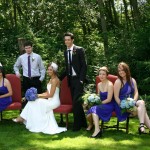 wedding day HOT and sunny. VERY hot (sweaty hot) but absolutely gorgeous. up scale. 1st class. radiant bride. beaming groom. amazingly well-behaved mostly napless kiddos. it was a LONG day (getting ready to go around 8:30, leaving around 10 a.m. and not arriving back home until just after 6 p.m.)
then over to mom & dad's for pizza with lots and lots of family. an evening of relaxing. playing in the dirt. good conversation. good music. lots of laughs. and much, much more.
and another informal/candid 4-generation photo: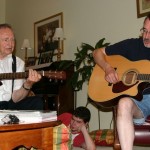 what the little guy doesn't know/understand yet is this: as a david c dunkin, he will love music and will learn to play the guitar. he will love electronics and somehow spend many, MANY free hours tinkering and dinking around. he will love to laugh. he will love the Lord. that little guy has BIG shoes to fill. but i'm digressing here!
i plan on spending today to recover from yesterday. and hopefully i can review some photos and share more with you tomorrow!