what?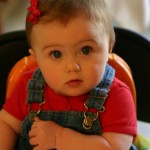 who me?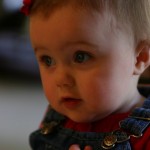 are you sure you want me?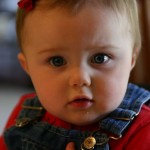 the day has finally arrived… the beautiful and talented and sweet samantha dunkin has CUT HER FIRST TOOTH! she woke up early from her afternoon nap yesterday (tuesday the 7th) and was having an AWFUL time. nothing helped. and i couldn't feel or see anything in her gums, so i wasn't sure WHAT was going on.
but less than 3 hours later, while at grandpa & grandma's house (visiting with them, the great-grandparents and cousins roy & tracy and their kids dori & avari), i FINALLY felt a sharp stub. poor sweet thing. running a fever (over 102) and just struggling. she ate some ice cubes (using one of those munchkin food net things). and we tried tylenol, teething tablets, orajel, a wet washcloth…. nothing was providing much comfort. i actually HELD my baby girl for hours. HOURS. she rarely wants to be held. it was so pitiful. poor thing.
so thanks to my AMAZING nurse friends (shelly – you're a life saver – any flavor you want), she was able to sleep thanks to the combination of motrin and benadryl.