HAPPY 4th of JULY! i am SO thankful for all the men and women who have sacrificed their time, energy, body parts and in some cases, their lives, to help this country remain FREE. it is because of them that i can enjoy this day. this week. this month. my life. my childrens' lives. so of those people have been family. some, friends. some, acquaintances. and most, strangers. i thank you all.
i have a moment to myself this morning. and i'm loving it. here's a photo i snapped the other day. it's not a "good" photo, by ANY stretch of the imagination. but just looking at it makes me giddy. why? check it out…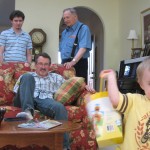 left to right, back to front, you can see
- David Collin Dunkin (my Dave)
- David Culham Dunkin (grandpa/great grandpa)
- David Carlton Dunkin (dad/grandpa)
- David Charles Dunkin (Davey)
all 4 together in the same room. talking. laughing. sharing. smiling. sleeping (dozing – great grandpa and my dave are the two "culprits" thus far). IT WARMS MY HEART. what a legacy. what a family. davey has some big shoes to fill. but he is also SURROUNDED with love and prayer. LOTS of prayer. and that warms my heart even more.
i'm hoping to get a "good" 4 generation photo today. one with just the Daves and one with all of us. but for now, i must focus on my work…. the tasks at hand:
- fold & put away laundry
- decorate a little boy's birthday cake
- take a shower & get dressed (!)
- take care of my kids and husband
- HAVE FUN!
happy 4th to all of you! may God bless you in some amazing, unexpected way today. just b/c i like that kind of stuff! :)
and i forgot to tell you that samantha can sit up on her own now. i mean, she can push herself to a sitting position. and she's moving around FAST, FAST, FAST… she'll be crawling any day (and minute?) now… so watch for that fun update!