so i just went through a bunch of photos (over 500) and narrowed it down to about 65 photos to share with you. seriously. 65. so we won't do them all in one post. whew. now you can breathe a sigh of relief. i'll share them over the course of this week. or perhaps this month. for now, i'll show you a FOUR GENERATION photo (another one, i know!) AND some birthday party/4th of july BBQ goodness…. are you ready?
the four most handsome "david c dunkin" men ever….
and now time for a (long) glimpse at davey's party/4th of july BBQ bash. let's start with a well-stocked freezer…. involving lots and LOTS of moowiches…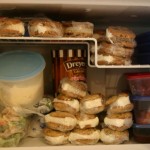 and then a pretty cool cake:
and some sweet party favors/goody bags for the (two) other kids:
and a sweet little sister all dressed up for the festivities:
after a big bbq meal, the kids enjoyed the pool (it was quite hot) while the rest of us allowed our food to settle….
once we all made room for cake (and moowiches), it was time to sing to the birthday boy and pretend he blew out his own candles (it was a bit breezy):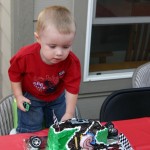 and we had to watch him enjoy his cake:
and sam got her first taste of chocolate cake: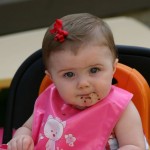 which she (smartly) followed with some milk (formula):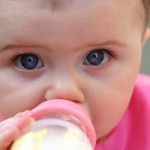 and then it was time to quickly open some presents:
this mama almost had a few heart attacks as his gifts included words on the boxes like "paint" and "sand!" he also got new jammies, some money, play-doh, pez and i don't remember what else! (our gift to him are all those plastic toys we've been buying through craigslist and garage sales…. slide, coupe cars, picnic table, etc.).
and because i can't resist taking photos of this girl, here are some cute shots of jorja enjoying her goody bag items:
and some final shots of dear samantha deciding that her great grandma is very sweet…. VERY sweet:
you may notice that davey's hair is shorter. he got it cut on friday. he was in DESPERATE need. and while he needed it and i was SO READY for it to be cut, it makes me sad to see his hair so short b/c it makes him look more grown up. like a big boy. and i'm not sure i'm ready to be the mama of a big boy quite yet!