i have no excuse for being a bad blogger lately. i do apologize. deeply. here's our week in review….
Friday (june 19th) – celebrate dad/grandpa's birthday…. davey got to help dad blow out the candle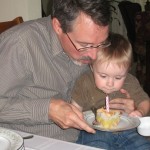 Saturday – nothing much.
on sunday evening, we went over to hang out with the family (so dad and dave could play with dad's new wii golf game) – and i love this photo of dad (grandpa) with sam: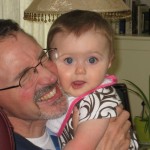 i know it's not the most flattering, but i think it shows a lot of emotion. i love how IN LOVE the grandparents (including nana) are with our kids!
we got some good smiles from sam (she gives 'em all the time…. just not to the camera!)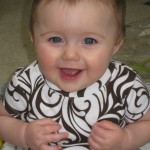 and then we had a snack of some bunny crackers…. some naughty bunny crackers: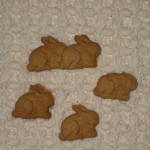 as you can see, the bunnies on the top are obviously related b/c the bunny below them and on the right is missing his ears. we did not remove the bunny's ears – he was born that way!
and then davey enjoyed some short superman and spiderman films with uncle tom while the rest of us did something else in the living room…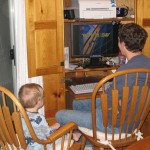 Monday – play group and i did something to my back. OUCH!
Tuesday – i worked at the store. and had a lot of fun. i love it there… Treasury really is my happy place these days! that night sam was a monster. i lost count how many times i had to get up with her. we're thinking she's teething but we can't feel or see anything. ugh.
Wednesday (June 24) – sam turned 8 months old AND we had a play date with Cece (this is becoming a weekly thing) where the kids enjoyed playing with some old school toys: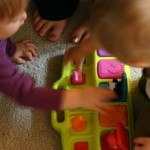 i think this is my favorite shot of the day: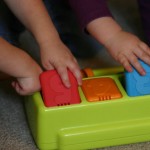 i also have some pretty cute photos of davey and cece's feet. cece was trying on some sandals while wearing some cute pink striped socks (turns out i gave her the socks and i was giving her the sandals, too!)… which makes her a true northwest girl…. socks and sandals!
It was another rough night with sam, though not nearly as bad as tuesday night!
Thursday – i was up, showered, dressed, hair and make-up done…. and i was downstairs and drinking this: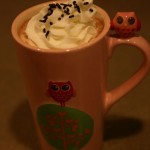 before either of the kids were up. it's just hot cocoa (made with 1/2 water and 1/2 milk) but it was tasty. i also folded 3 loads of laundry… so it wasn't an entirely relaxing "late start" to the day!
Friday – just chillin' at home some more. we hit a few garage sales in the morning. had a fun visit from auntie taryn in mid afternoon. i tried to take some "8-month" photos of sam in the morning, but they didn't go so well. and i didn't push the issue. so here are two outtakes:
maybe i'll try again tomorrow. once i get a decent photo of her with that elephant (to track her growth) i'll share a list of "sam at 8 months."
tomorrow's agenda is unknown. we have nothing on the calendar. it's our last "free weekend" before 5 weekends of MADNESS (also known as "the month of july"), so i plan to enjoy the laziness to the fullest. and i should plan davey's birthday party since it's next saturday (the 4th)!