sunday – june 7
today i ditched church (i did go to sunday school, though!) to drive (with my mother-in-law, the music pastor's wife!) up to canada to attend a bridal shower for my soon-to-be sister-in-law, Taryn. have i told you much about taryn yet? i first met her 2 years ago. almost to the day. she and jeff started dating (finally) in june 2007. just as tom (dave's youngest brother) graduated from high school and rachel (dave's sister) got married. i was largely pregnant. the kind of large that comes from being bloated b/c it's the summer, it's hot and i'm almost due. that kind of largely pregnant. but i digress….
taryn is the sweetest, kindest, most beautiful and genuine girl i think i've ever met. she's down to earth. she's real. and i think that's why i like her so much. she's real. she's been taught to work hard in life for what she wants (good traits to instill in your kids – way to go Terry and Leslie! - those are Taryn's parents)! she doesn't take things for granted. she likes to shop. she just graduated and is going to be a teacher. to HIGH SCHOOL students. she loves kids (even babies!). she is caring, considerate, tender, heart-felt, passionate and just down-right personable. i can't imagine anyone not liking taryn. i know i love her already. in fact, i've loved her for about two years now. i was elated when jeff said he'd bought her a ring!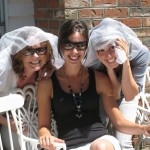 (mandy, taryn & sarah)
so today i was more than happy to drive up to white rock, british columbia (just over the border) to attend a small bridal shower. i got to meet her sister… oops, i mean her mom, Leslie. and her other sister…. oops again! i mean her aunt kristine (or is is kristina?). her two grandmothers (seriously, her grandma helen looks like she could be taryn's mom!), two of her bridesmaids and a few other people.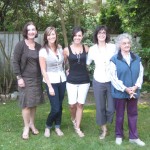 (grandma helen, aunt kristine, taryn, mom leslie, grandma bubba)
linda and i were early. with the border crossing, and all, you can't be too sure how long it will take to get up there. and i haven't driven in canada in several years. no exaggeration. i think i've only been up there twice since davey was born and dave drove both of those times! but it turned out we were REALLY early. (even though we made not one, but TWO wrong turns within 5 minutes of crossing over the border!) they changed the start time of the shower. from 1 to 1:30. doesn't sound like a big deal. but we got there are 12:15. i kid you not. we were VERY early. thanks, though, to Mandy (bridesmaid) and Sarah (bridesmaid) and Bev (Mandy's mom) for being gracious to us "foreigners!"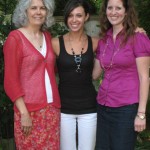 (linda, taryn and tamara)
and i promise you… my love of taryn has nothing to do with the fact that we're both daughters-in-law. or that we both have less common names that start with the letter "T." or that we have the same middle name (spelled differently). or that we have the same initials (her maiden name is small and married name will be dunkin). or that we both have dark hair. or that we're both klutzy. really klutzy. okay. so do you think i can get away with claiming this girl as my "real" sister?!
anyway, i had a great time at the shower. we played some fun games. we laughed. A. LOT. we ate. A. LOT. i feel like i got to know two of taryn's best friends (since grade school!) and some of her family. it makes me feel like i know taryn just a little bit better. so thanks, taryn, for letting me be a part of your celebration!
I LOVE YOU, TARYN!!!! (and i hope i haven't freaked you out with all the nice things i've said about you here!)