she's still not very interested in her own binkies…. most of the time…. but for whatever reason, she LOVES to chew on davey's binkies: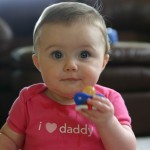 hmmmm. which one do i want to chew on right now…. red? or blue?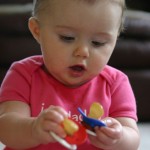 and i guess water bottles are really good teethers, too: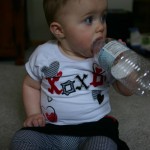 killer outfit, eh? leggings, matching shirt (that often exposes her belly!) and a little skirt. had it been a hint colder today, she would've worn the matching sweatshirt. nana to the rescue, again!
and one more for good measure: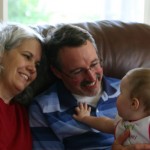 tomorrow she will turn 8 months old. crazy. today i get to go to work, as long as my back cooperates (somehow it went "out" yesterday – what does that even mean?) so i'll likely post some 8-month photos and an updated "sam at 8 month" list on wednesday. i hope that's okay with you. 'cuz i'm fine with it!