happy 7th anniversary to our dear friends tim & carrilee….. i regret to inform that i don't have a recent photo of you two toge†her… and you don't want to see the first photo i found of you in my photo library…. so instead, here's a photo of tim (with henry, dave and davey):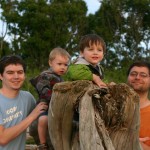 and a photo of carrilee with jorja: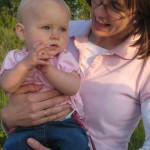 i know they're not celebrating until tomorrow (tuesday) night, but i still wanted to wish them a "happy" on their day. i did that this morning when clee called me (around 9:15-ish) and she laughed pretty hard…. b/c she and tim BOTH forgot to tell each other "happy anniversary" that morning. just goes to show you what happens after 7 years, 2 kids and when your anniversary is on a monday! :)
love you guys bunches…. not sure where we'd be without you two!